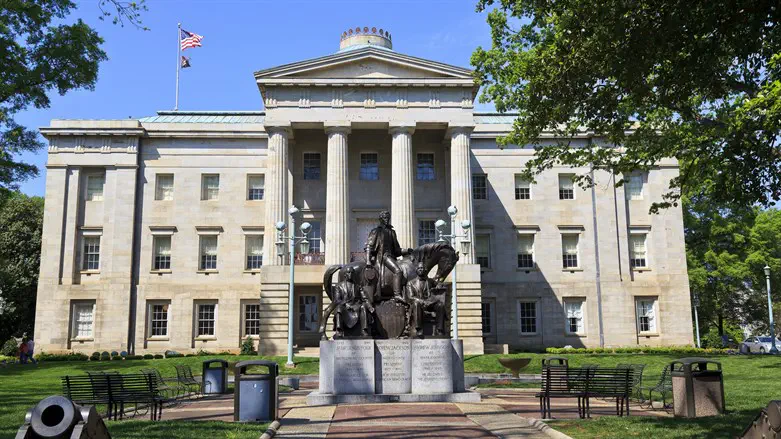 North Carolina Capitol building
iStock
Police in Boone, North Carolina are investigating after a man was spotted waving and hanging a swastika on a Reform synagogue's sign.
Boone police announced that they had been contacted on Wednesday by someone who witnessed a man wearing a dark ski mask, dark clothes and gloves hanging the Nazi banner over the sign belonging to Temple of the High Country, WYFF4 reported.
Police said in a statement they had retrieved the flag as evidence but were not able to find anyone in the area who matched the description of the suspect.
A man wearing similar clothes and a ski mask was captured on surveillance video at a Kangaroo Express convenience store at around the same time, police said. They described him as a person of interest in the incident.
On its website, Temple of the High Country released a statement thanking law enforcement for their fast response.
"Law enforcement response was swift. Within minutes, an officer was on the scene to interview the students and retain the flag as evidence. Since then, we have received multiple phone calls from Boone police officers, including the Chief of Police, who expressed his concern and support, and pledged to increase police presence in our area for the immediate future."
They added: "We want to reassure our congregants that the security measures we have had in place for the past year continue; and heightened security features are already being implemented for your personal safety whenever you or your loved ones visit our Temple in person."
The incident follows several recent cases of neo-Nazi groups hanging antisemitic banners in the state.
In December, a Nazi banner was hung on a North Carolina overpass shortly before the start of Hanukkah.
The banner, containing neo-Nazi imagery and symbols, was discovered in Moore Country unfurled over a US Route 1 overpass. It featured four swastikas, the white supremacist phrase "1488," the phrase "bring it all down," and a link for a neo-Nazi Telegram channel.
A month later, a white supremacist group hung an antisemitic banner on a foot bridge in the Charlotte area.
The Patriot Front banner, which said "No Zionists in Local Government," was unfurled over a pedestrian walkway going to the Charlotte Motor Speedway motorsport complex in the suburb of Concord. The banner, hung over Highway 29, was clearly visible to motorists.