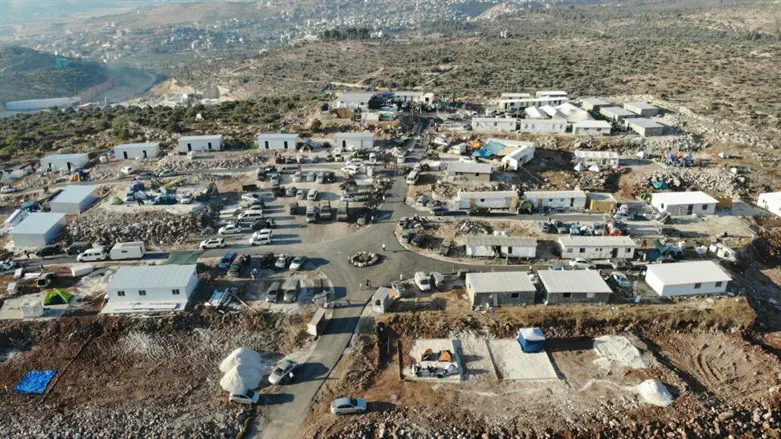 Outpost town of Evyatar in Samaria
צילום: נחלה
Israel has agreed to a request from the Biden administration that no additional outpost communities be legalized in the coming months, as part of Secretary of State Blinken's effort to secure a "pause" in unilateral actions by Israel and the Palestinian Authority.
The Prime Minister's Office announced Monday afternoon that the government will not move forward with any plans to normalize unregulated Israeli outpost communities in Judea and Samaria for the next few months, without specifying a precise timeframe.
The move does not impact the decision by the government earlier this month to recognize nine fledgling communities across Judea and Samaria, including Avigil, Bet Hogla, Givat Harel (also known as Givat Haroeh), Givat Arnon, Mitzpe Yehuda, Malachei Hashalom farm, Ashael, Sde Boaz, and Shaharit.
Blinken condemned the legalization of the nine towns, warning it could "exacerbate tensions" in the region and endanger the two-state solution.
"We are deeply troubled by Israel's decision yesterday to advance reportedly nearly 10,000 settlement units and to begin a process to retroactively legalize nine outposts in the West Bank that were previously illegal under Israeli law."
"Like previous administrations, Democratic and Republican, we strongly oppose such unilateral measures, which exacerbate tensions and undermine the prospects for a negotiated two-state solution."
Netanyahu's office also said, however, that Israel has not agreed to slow the demolition of illegal Arab buildings in Judea and Samaria.
A report published by the Hebrew-language outlet Walla on Sunday cited two American officials who claimed that Israel had agreed to "understandings" with the Biden administration, according to which Israel would halt settlement expansion and dramatically reduce the number of demolitions of illegal Arab buildings in Judea, Samaria, and eastern Jerusalem.
In exchange, the Palestinian Authority has reportedly agreed to delay a draft resolution, tentatively scheduled for a vote in the United Nations Security Council, demanding Israel "immediately and completely cease all settlement activities in the occupied Palestinian territory."
An Israeli diplomatic official cited by the report denied that Israel had agreed to freeze construction in Judea and Samaria, noting that the Civil Administration's Higher Planning Committee had recently convened and approved thousands of units in the area, and is not scheduled to meet again for several months.
The Biden administration is reportedly pushing both sides to "pause" any unilateral steps before and during the Islamic holy month of Ramadan, which begins on March 22nd and ends on April 20th.
Israel is poised to limit Jewish access to the Temple Mount during Ramadan, Kan 11 reported Sunday.
According to the report, the plans put forth by senior security officials sparked an outburst by National Security Minister Itamar Ben-Gvir (Otzma Yehudit), who is said to have shouted during the meeting: "Even the Bennet government didn't limit entry like you want to. The previous government closed the site for nine days, and the defense establishment wanted 10. I don't think we need to close the Temple Mount to Jews at all."