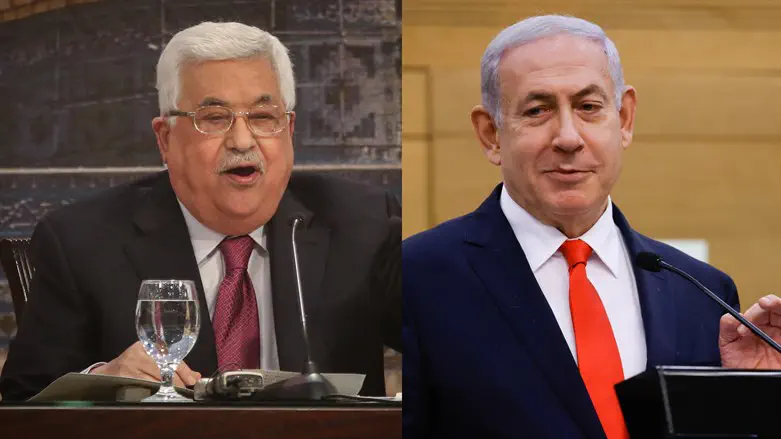 Netanyahu and Abbas
Olivier Fitoussi/Flash90
Israeli Prime Minister Benjamin Netanyahu has agreed to a number of concessions to the Palestinian Authority, as part of the Biden administration's push to broker a deal between the two sides to lower tensions during the Islamic holy month of Ramadan, Walla reported Sunday evening.
According to the report, two Biden administration officials say that the US has secured "understandings" with Jerusalem and Ramallah, under which both Israel and the Palestinian Authority will refrain from unilateral moves over the next few months.
The understandings, disclosed earlier this month, were reportedly finalized only following heavy pressure from the Biden administration.
Under the tacit agreement, the Palestinian Authority will hold off on its plans to have the United Nations Security Council vote on a resolution condemning Israeli construction in Judea and Samaria.
The resolution, drafted following the Israeli Cabinet's decision to authorize nine communities in Judea and Samaria, is slated to be brought up for a vote by the 15-member council on Monday, and would demand Israel "immediately and completely cease all settlement activities in the occupied Palestinian territory."
The text "reaffirms that the establishment by Israel of settlements in the Palestinian territory occupied since 1967, including East Jerusalem, has no legal validity and constitutes a flagrant violation under international law."
The United States hinted Thursday it would likely veto the resolution, with State Department spokesman Vedant Patel calling the resolution "unhelpful."
To avoid being forced to use its veto in the Security Council, the Palestinian Authority is expected, under the new arrangement, to call to have the vote on the resolution dropped from the Council's agenda.
In exchange, Israel has reportedly agreed to freeze construction projects in Judea and Samaria and to halt or significantly reduce the demolition of illegal Arab structures in eastern Jerusalem, Judea, and Samaria.
The duration of the construction freeze and reduction in demolitions is unclear, though the report claimed the US is hoping to reduce tensions during the upcoming Islamic month of Ramadan which lasts from March 22nd to April 20th.
An Israeli diplomatic official quoted in the report denied that any understandings regarding construction freezes in Judea and Samaria were reached.