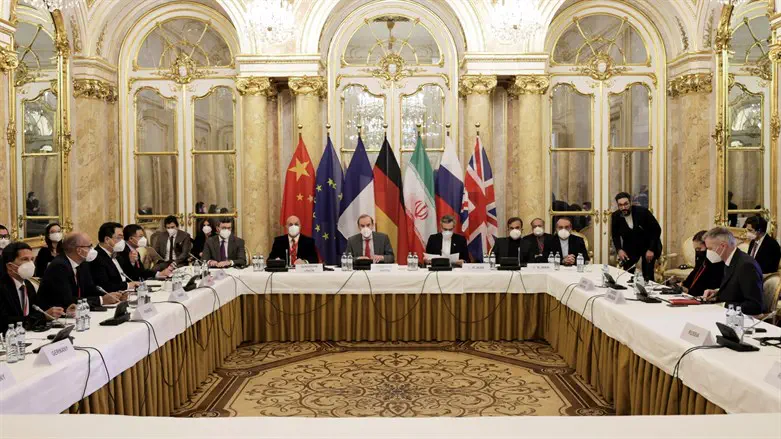 Nuclear talks in Vienna
Reuters
Iran said on Monday that it welcomes the Iraqi government's efforts to help with the talks on the revival of its 2015 nuclear deal with world powers, the Xinhua news agency reported.
Iranian Foreign Ministry spokesman Nasser Kanaani made the remarks at a weekly press conference following Iraqi Foreign Minister Fuad Hussein's separate consultations with his Iranian counterpart, Hossein Amir-Abdollahian, and US Special Envoy for Iran Robert Malley about the nuclear talks.
Iran will seriously consider Iraq's efforts if the Iraqi government seeks to play a role in helping the nuclear talks bear fruit, Kanaani noted, according to Xinhua.
He reaffirmed Tehran's commitment to talks to lay the groundwork for all parties' return to the nuclear deal, with its priority being the removal of all sanctions imposed on the Iranian government and people.
It is hoped that the other parties, in particular the US government, would practically honor their obligations in line with their claims of willingness to return to the deal, he added.
Kanaani pointed out that Iran has no direct contact or negotiation with the US government, but will use all diplomatic capacities to safeguard the country's interests, particularly the removal of the sanctions.
Former President Donald Trump withdrew from the 2015 Iran nuclear deal in 2018, and Iran responded by scaling back its compliance with the agreement.
The Biden administration sought to return to the deal and held indirect talks with Iran on a return to compliance.
Those talks have been stalled since September, when Iran announced it had submitted its comments to the US response to the European Union's draft for reviving the 2015 Iran nuclear deal.
While Iran's Foreign Ministry spokesperson said at the time that Iran's response was prepared based on a constructive approach, a senior Biden administration official said the Iranian response "is not at all encouraging."
A US official later said that the efforts to revive the 2015 Iran nuclear deal have "hit a wall" because of Iran's insistence on the closure of the UN nuclear watchdog's investigations.