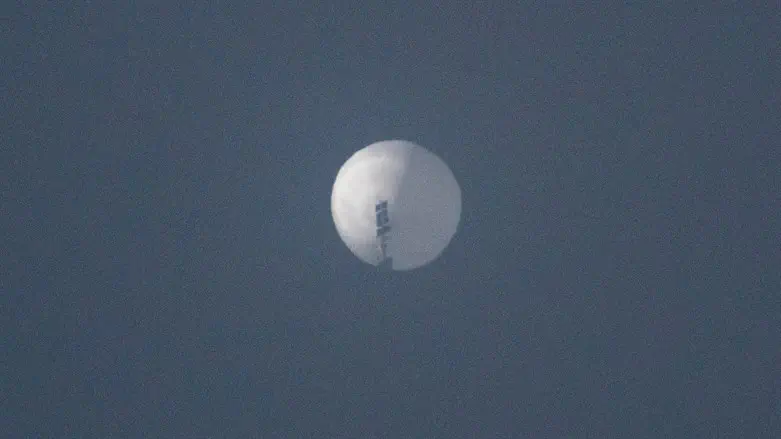 The suspected Chinese balloon seen over Billings, Montana
Chase Doak/via REUTERS
United States officials have alleged that the Chinese high-altitude surveillance balloon which was shot down over the Atlantic Ocean on Saturday was part of a larger fleet of such balloons that operate around the world.
"We're not alone in this," said US Secretary of State Antony Blinken. "We've already shared information with dozens of countries around the world both from Washington and through our embassies. We're doing so because the United States was not the only target of this broader program which has violated the sovereignty of countries across five continents."
According to the Washington Post, US Deputy Secretary of State Wendy Sherman briefed nearly 150 foreign diplomats in 40 embassies, while in Beijing, the US embassy gathered foreign diplomats on Monday and Tuesday to present US findings on the balloon. "We want to make sure that we are sharing as much as we can with countries around the world who may also be susceptible to these types of operations," a senior official stated.
Meanwhile, The Guardian reports that cases of suspected balloons flying over Japan have been confirmed, including in the waters off the southwestern region of Kyushu in 2022. Government spokesperson Hirokazu Matsuno said that Tokyo was exchanging data with the US. "We will continue to monitor the situation with utmost interest and gather information," he said.
In the meantime, efforts to recover the remnants of the downed balloon continue. Pentagon spokesperson Brigadier-General Patrick Ryder said the FBI and the Naval Criminal Investigative Service were working on cataloging the wreckage of the downed balloon and transferring it to the mainland for further examination. The Pentagon has published photographs of sailors on small navy boats gathering parts of the balloon from the ocean surface, but most of the equipment payload, said to be the size of a regional passenger jet, has sunk to the sea bed.
On Wednesday, President Joe Biden told PBS in an interview that he does not believe that the US downing of a Chinese surveillance balloon will negatively impact relations between the two countries.
Asked if relations have taken a hit, Biden flatly responded, "No."
Biden said he has not spoken to President Xi Jinping since it was reported that a Chinese balloon was hovering over the US, and the balloon was subsequently shot down last weekend.
"But look, I mean, the idea of shooting down a balloon that's gathering information over America and that makes relations worse?" Biden stated.
"Look, I made it real clear to Xi Jinping that we're going to compete fully with China, but we're not looking for conflict. And that's been the case so far," he added.