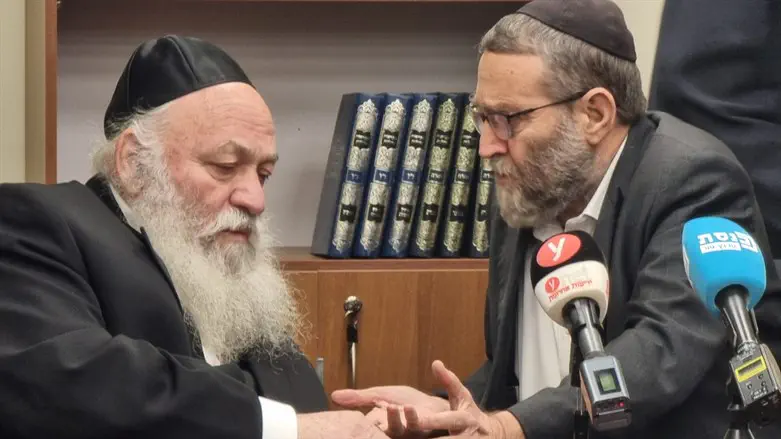 UTJ leaders Moshe Gafni & Yitzchak Goldknopf
Hezki Baruch/Israel National News
Senior members of the United Torah Judaism (UTJ) party have informed Prime Minister Benjamin Netanyahu that if he turns back from his party's planned judicial reforms, they will leave the government, depriving it of its majority.
According to a report on Kan Reshet Bet, following an agreement reached between the opposition Yesh Atid party and the Likud, the chairman of the Knesset's Constitution Committee, MK Simcha Rothman, announced that the forthcoming discussion of the legal reform package would be postponed until next Sunday.
On Wednesday, the committee once again discussed the judicial reforms, focusing on changes to be made to the composition of the committee for selecting judges, along with barring the Supreme Court from revoking Basic Laws. Following the debate, Rothman told committee members that they would not be holding a vote, even though one had been planned.
Last week, Kan News reported that senior coalition members had decided to divide the reform package into a number of smaller components, in order to pass certain key aspects as soon as possible. The two issues debated on Wednesday, the composition of the committee for selecting judges and limitations on the ability of Supreme Court justices to amend Basic Laws, were among the clauses deemed most vital to advance quickly.