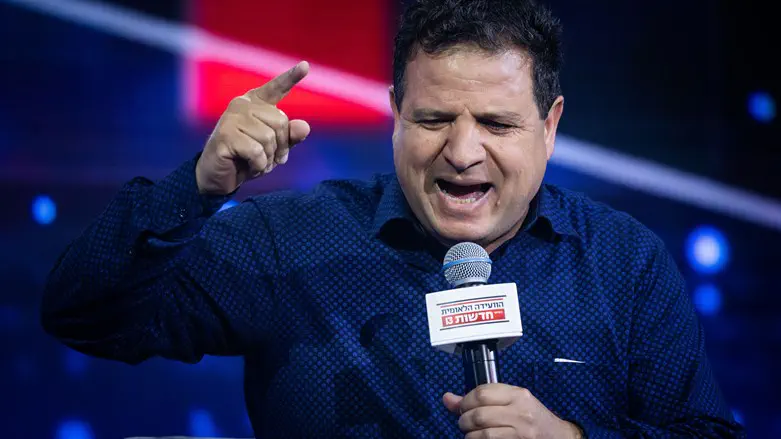 Ayman Odeh
Yonatan Sindel/Flash 90
MK Ayman Odeh (Hadash) does not see himself as part of the opposition's fight against the Netanyahu government, but wishes to take advantage of the circumstances to promote issues that benefit the Arab society.
In an interview with Hala TV on Wednesday, Odeh said, "We are against the fascist government and at the same time we see the protesters as wanting to have a dialogue about the court, the state attorney's office, the police and the freedom of the press and want a racist Israel, so we must ask ourselves: Is our campaign meant to transform Israel from fascist to racist or shall we use the opportunity to strengthen our issues?"
"I criticize the opposition, not because it is strong, but because it is racist and it does not raise the main problems, namely the continuation of the occupation and the racist discrimination against the Arab citizens," continued Odeh.
He also said, "We are in the opposition, but we have our advantages and we are not part of the battle between Yair Lapid and Netanyahu. We are against the fascist government, which we currently see as the greatest threat. The opposition wants us to be a reservist force in its campaign against the government, but we are not and will not be reservist soldiers. We are against the government and its racism as well as against Lapid's racism."
Looking to the future, Odeh said, "I believe that this government have internal contradictions, especially between the Netanyahu camp and the Ben Gvir and Smotrich camp on the Palestinian issue, since Netanyahu seeks to eliminate the Palestinian issue by suppressing it in order to promote normalization with the Arab world and Saudi Arabia, while Ben Gvir and Smotrich want to raise the Palestinian issue too much in order to eliminate it directly by annexing the territories of Area C and dividing the use of the Al-Aqsa Mosque according to criteria of time and space."
"Therefore," he concluded, "the crisis will intensify between them, and the Palestinian resistance will contribute to its escalation, and this will lead to a fundamental dispute between these two streams, in a way that will lead to an explosion and to elections within a year and a half to two years."