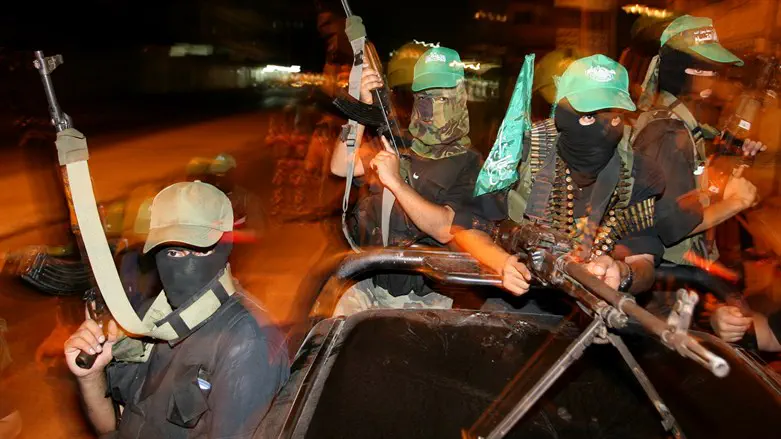 Hamas training exercise in Gaza
Wissam Nassar/Flash 90
British Home Secretary Suella Braverman has promised to get tough on Islamist antisemitism in the country after a report found the government's counter-radicalization strategy was a failure and had left British Jews vulnerable to supporters of terror groups such as Hamas and Hezbollah.
The report, written by William Shawcross, concluded that the Prevent anti-radicalization program had not done enough to dissuade support for Islamist terror groups which had let to antisemitic terrorists falling through the cracks, the Jewish Chronicle reported.
It stated that support for Hamas and Hezbollah was coming from "those in senior political or community roles."
"In order for the proscription to be truly effective, those who fundraise for Hamas or break the law in support of the group's activities must be prosecuted to the full extent of the law," the report said. "There is no reason why those who support Hamas should be treated any differently to those who support Islamic State, National Action, or other proscribed organizations."
The report urged the government to "pay greater attention to the pernicious impact of Hamas's support network in the UK."
Braverman told the Chronicle that "antisemitism is a scourge in our society that must be rooted out" and that she was "fully committed to tackling this despicable behaviour and Prevent, with its renewed focus, will play a fundamental part in taking on these extremist attitudes and crimes."
According to Braverman, Prevent should "better disrupt radicalizers who spread antisemitic views or are supportive of those that harass and violently target the Jewish community."
She added that groups that advocate for banned terror organizations "will no longer be tolerated" and will potentially be prosecuted under anti-terrorism laws.
She agreed with the report's finding that "Prevent has defined the extreme right-wing too broadly… Meanwhile it has given too narrow a scope to Islamist extremism, which has enabled some extremist groups to operate unchecked. I will rid Prevent of any cultural timidity so that it meets every threat head on and does more to identify and challenge non-violent extremism."
She also approved all 34 of Shawcross's recommendations, and pledged to implement them along with "confronting UK extremists supportive of terrorist movements which target Jewish communities (such as Hamas and Hezbollah) and addressing the anti-Jewish component of Islamist and extreme right-wing ideology and groups."
Speaking during the release of the report in parliament, Braverman noted: "In too many aspects of British life, hatred directed at Jewish people has been tolerated, normalized, and accepted."
"Racism that would rightly be called out and enforced against were it directed at any other minority, is too often ignored when directed at Jews," she said. "The review makes clear that this double standard must change."