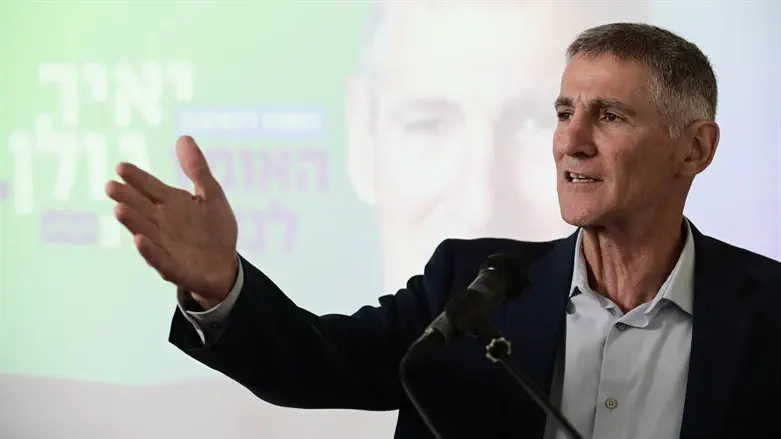 Yair Golan
Tomer Neuberg/Flash90
Former Meretz MK Yair Golan once again used his Twitter account to call for civil disobedience, writing: "The era of protest is over. The era of civil unrest must begin."
"The protest of the reservists is a protest on the part of people who actually served, not like Smotrich, Ben Gvir, and Rothman," Golan said at the march of the reservists against the legal reform initiated by Minister Yariv Levin.
"But if we continue with marches on the streets, no matter how impressive they are, this bad government will not understand that we are serious," he added.
Therefore, Golan said, "We must paralyze the traffic in the State of Israel, we must paralyze the workplaces. That way, this horrible government will understand that we insist on fighting for our country - for all of us."
About a month ago, Golan wrote on his Twitter account a call to start a civil protest, "Friends, against the malicious and evil government there is only one way - a large-scale civil protest. Destruction of the justice system, unlimited political appointments, permission for the haredim to do whatever they want with our tax money...why would we agree to this? Why would we accept this? We will never agree.''
''Change a diskette. No more polite demonstrations on Saturday evenings, no more runaway posts in the evening, and no more lamentation. Only actions. Only results. Businesses will be shut down, services will be shut down, roads will be blocked, and the one who pretends to rule through corrupt, hedonistic, extremist, and dark people will discover that the people are sovereign.''
Golan also said: ''We are sovereign, and we will determine the fate of our country. The power belongs to the people, and this will not happen without a determined and courageous struggle.''
This is not the first time the leftist former Meretz MK has called for breaking the law. Sderot Attorney Nir Kalfa filed a police complaint against him in January, following a tweet in which he called for a wide-scale civil uprising. He once called the Jews living in Homesh "subhuman" and as Deputy Chief of Staff in 2016 compared Israeli society to the Nazis on Holocaust Memorial Day.