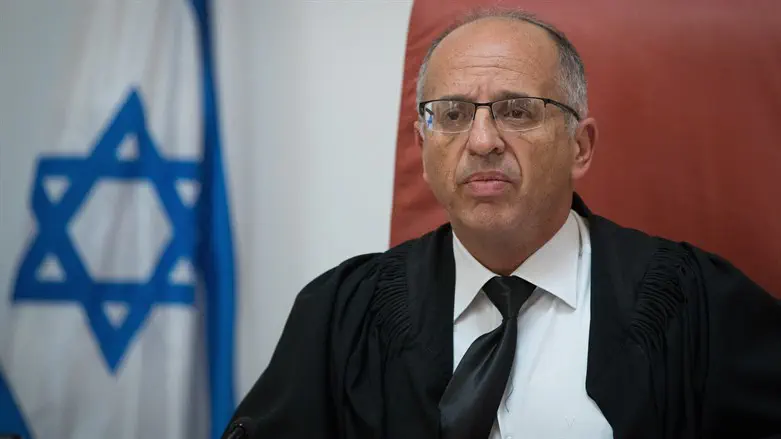 Justice Noam Sohlberg
Yonatan Sindel/Flash90
Supreme Court Justice Noam Solberg on Tuesday rejected the State's request for a four-month delay to submit its position on the demolition of the illegal Bedouin outpost of Khan al-Ahmar, granting the State just two months.
Justice Solberg criticized the government's handling of the issue and wrote: "This extension is the ninth, and the petition has been pending for nearly four years. We have repeatedly expressed our dissatisfaction with the repeated foot-dragging."
"Suffice it to say, we are not at all comfortable with the conduct of the State's respondents, which has even been self-contradictory". he added.
"On the one hand, it has been claimed, repeatedly, including in the request for an extension before us, that "the political echelon remains steadfast in its position that the rule of law requires the execution of the demolition orders in the Khan al-Ahmar compound"; and on the other hand, the actions of the respondents so far apparently show the opposite - that they are comfortable with the current situation: every few months a request for an extension will be filed, the petitioner will oppose it, the court will grant it, even if with reservations, and the world will follow the dictum: 'decide not to decide'.
"This course of action may be acceptable outside the walls of the court, but it is not acceptable to us", Justice Solberg wrote.
The Regavim movement which filed the original petition against the illegal outpost, responded to the Supreme Court's decision and said: "Even on such a cold day, the Supreme Court should not pull the chestnuts out of the fire for the Israeli government. The government should formulate a working plan for the evacuation and enforcement of the law in Khan al-Ahmar, as part of a fight against the Palestinian Authority's institutionalized takeover of the open areas in Judea and Samaria".
"The State of Israel must behave like the home owner, even in the face of American pressure, otherwise no one in the world will take the State of Israel seriously", added Regavim.