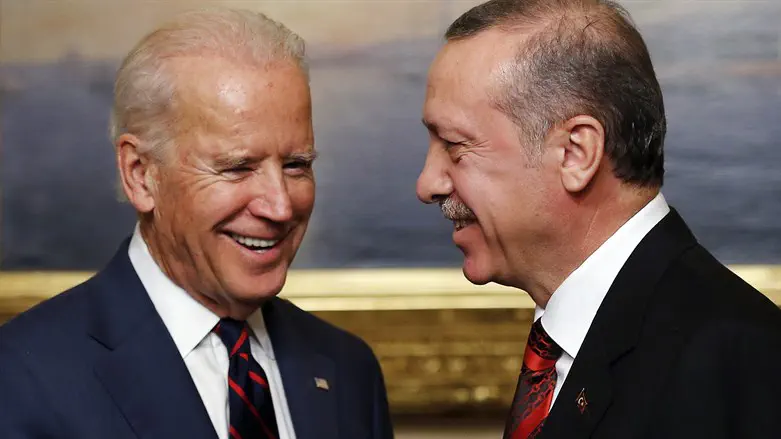 Biden and Erdogan
Reuters
US President Joe Biden spoke on Monday with Turkish President Recep Tayyip Erdogan following the devastating earthquake that hit the country.
The White House said in a statement that Biden "reaffirmed the readiness of the United States to provide any and all needed assistance to our NATO Ally Turkey in response to this tragedy."
"President Biden expressed condolences on behalf of the American people to those who were injured or lost loved ones in the earthquakes. He noted that US teams are deploying quickly to support Turkish search and rescue efforts and coordinate other assistance that may be required by people affected by the earthquakes, including health services or basic relief items," the statement added.
More than 3,400 people were killed and thousands of buildings were toppled in the earthquake which hit Turkey and Syria early Monday morning and was also felt across Israel. The death toll is expected to continue to rise in the coming days.
On Monday evening, the joint "Olive Branches" humanitarian aid delegation of the Israel Defense Forces, Ministry of Foreign Affairs and Ministry of Defense left Israel for Turkey where it will assist in the earthquake-stricken area of the country.
The delegation, led by the IDF Home Front Command, will depart from the Nevatim Air Force Base on Israeli Air Force aircraft this evening. The delegation is expected to begin its search and rescue mission immediately. An advanced team departed for Turkey earlier in the afternoon and will receive the delegation upon landing in Turkey.