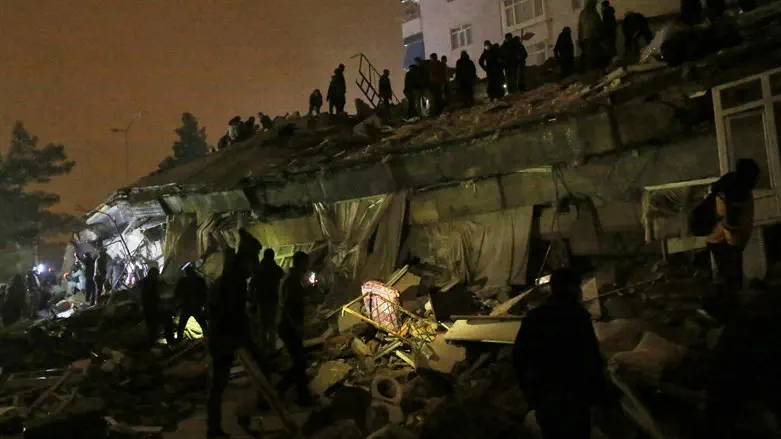 Searches for survivors in Turkey
REUTERS
A magnitude 7.8 earthquake which originated in Turkey was also felt in many areas of Israel overnight Sunday.
The earthquake was felt in Israel with an estimated magnitude of 3.
Thus far, at least 568 people have been reported killed in northern Syria and southern Turkey.
Residents of the Holyland neighborhood in Jerusalem told Israel National News that they felt the earthquake for one minute. Residents of the city of Lod and in other areas in central Israel also said they felt the tremor.
A resident of Ra'anana told Israel National News that the earthquake was felt on the 11th floor of a 14-floor building for approximately four minutes.
No injuries or damages were reported in Israel. In southern Turkey at least 284 people were killed in the earthquake after dozens of buildings collapsed.
Security forces are searching for people who may have been trapped under the rubble of buildings that collapsed.
The earthquake was also felt in Syria, and the official death toll there is at least 284 people.
At the end of January, a strong earthquake occurred between Turkey and Crete and was also felt in Gush Dan and Haifa, among other areas.
According to the United States Geological Survey (USGS), the magnitude of the earthquake was 5.9. The earthquake occurred at a depth of 12 kilometers underground.
Last July, an earthquake with a magnitude of 3.1 was felt in northern Israel. The earthquake occurred 9 km northwest of the town of Hatzor HaGlilit.