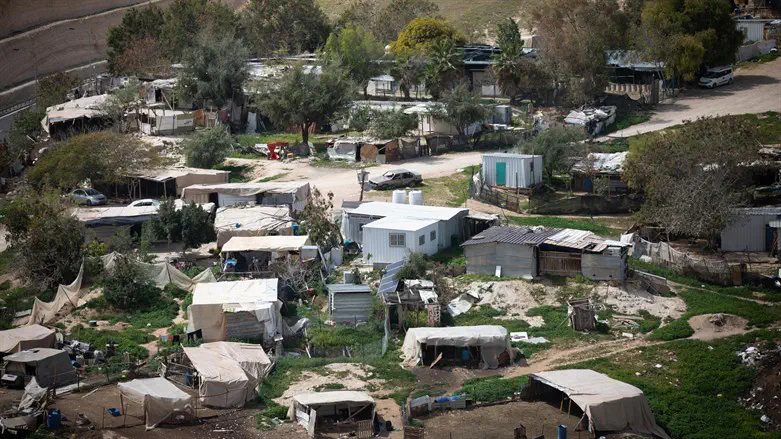 Khan al-Ahmar
Yonatan Sindel/Flash 90
The CEO of the Regavim movement, Meir Deutsch, was not surprised by the State of Israel's request to once again postpone providing its response to the Supreme Court regarding the eviction of the illegal Bedouin outpost of Khan al-Ahmar.
"I am disappointed but not surprised. I assumed that the state would ask for another extension, but I was disappointed because I hoped that the state would prepare for the evacuation. The state asked to postpone its answer to the petition in four months. After eight postponement requests, it is no longer surprising," he told Israel National News, adding that he estimates that there is also a great chance that the state will request yet another postponement after the current postponement.
"I hope we don't get there. I hope the Supreme Court will not accept the state's request for an extension and that it will obligate the state to evacuate them within a specified time," said Deutsch. Regarding the answers he has been from government ministers whose position is similar to his own, he said, "They claimed that they demanded that Khan al-Ahmar be evacuated right now and that there is a disagreement about the method. At the end of the day, the Defense Minister is the one who decides, and he, together with the Prime Minister, thought differently."
"All the members of the coalition pledged before the elections that they were going to deal with the issue of the Palestinian takeover of Area C. They all claimed that Khan al-Ahmar should be evacuated, and now that they have to deal with the issue, they are delaying it," said Deutsch, who said he is very disappointed by the conduct that contradicts the consensus across the board in the coalition regarding the need and the obligation to evacuate Khan al-Ahmar.
"I agreed with Bezalel [Smotrich] when he demanded to receive these powers [over the Civil Administration], but he has not yet received those powers. The petition was not addressed to the Minister of Finance, rather to the Minister of Defense and the Prime Minister, but the ministerial responsibility falls on Bezalel as well as on all the ministers."