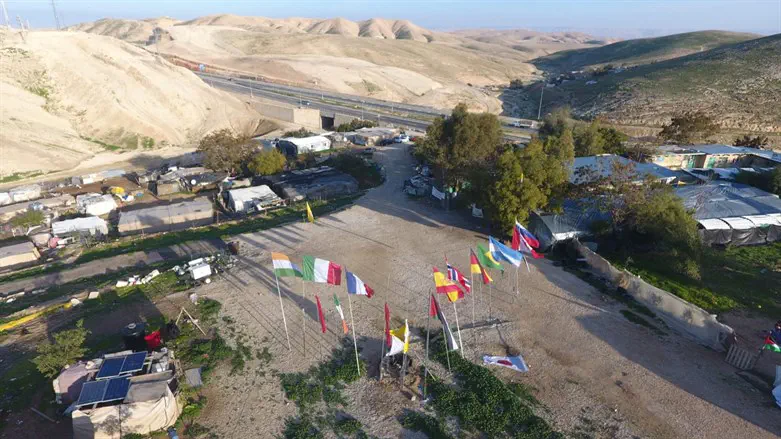 Khan al-Ahmar
Regavim
The State on Wednesday asked the Supreme Court for another four-month delay to submit its response on the issue of the illegal Bedouin outpost of Khan al-Ahmar.
This is the ninth time in a row the state has asked the court for a delay on the issue of Khan al-Ahmar.
Prime Minister Benjamin Netanyahu's Likud party had demanded that the State's response include a date by which the State committed to evacuating the outpost. However, no such date was included in the response.
The Regavim movement strongly criticized the postponement request. "We were hoping for an appropriate response by a national right-wing government - as promised in the election campaign," said Meir Deutsch, Director General of Regavim.
He added: "There is no justification for this. Like Cato in ancient Rome, we continue to repeat the same demand, to hold the same consistent position, to call upon our representatives in the government to act immediately to evacuate this illegal encampment,- as well as dozens of other Palestinian Authority outposts created in the same mold - not 300 meters away from its present location, but to the neighborhood prepared precisely for this purpose near Abu Dis."
Regavim responded to the state's request for postponement by calling on the High Court to issue a final order, as it intimated it would when it granted the previous postponement, and put an end to the saga once and for all. "This is an extreme case of 'lack of 'reasonableness''," added Deutsch. "After all is said and done, this case will prove whether the High Court applies the same standard of reasonableness to cases from both sides of the political divide, or whether the reasonableness standard is nothing more than a judicial fig leaf for a particular agenda. We await a final judgement for the relocation of the Khan al Ahmar outpost in a manner that is consistent with Israel's national interests."
MK Danny Danon, Chairman of the World Likud and Israel's former Ambassador to the UN, also condemned the government's response: "In attempting to avoid the immediate eviction of Khan al-Ahmar, the government's response to the Supreme Court sets a dangerous precedent and gives the Palestinian Authority free rein to construct additional illegal outposts. This government was elected to change the floundering policies of the previous government, rather than to continue with their oversights. It is not too late to act and evict Khan al-Ahmar."