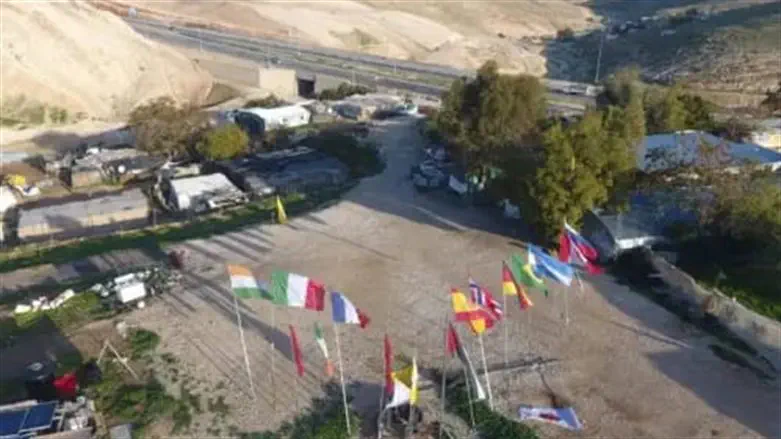 Khan al-Ahmar
Regavim
The Supreme Court is set to hold a hearing Monday on the government's response to an appeal by the watchdog group Regavim regarding the enforcement of the demolition order and evacuation of the illegal Bedouin outpost of Khan al-Ahmar, east of Jerusalem.
The hearing comes after the government repeatedly delayed providing the court a response to Regavim's petition.
Following multiple postponements, the government finally submitted its response Sunday evening, after Prime Minister Benjamin Netanyahu addressed the issue during a government meeting, over the objections of Finance Minister Bezalel Smotrich (Religious Zionist Party).
In the government's response, the state claimed that there is "classified material" related to "the timing and manner of implementing the orders, which is influenced by broad and diverse political and security considerations," Ma'ariv reported.
As such, the government demanded the cancellation of the order and the postponement of the appeal.
The government wrote the court that "this response statement was drafted after a hearing held yesterday under the leadership of the Prime Minister, with the participation of the Defense Minister, the additional minister in the Ministry of Defense, the Minister of National Security, the Minister of Justice, the National Security Advisor and the Head of the National Security Council, as well as the Cabinet Secretary. This hearing required a high level of consideration for all the issues at hand, including the decisions of the esteemed court."
The government has sought yet another delay in the implementation of the eviction orders against Khan al-Ahmar, which has faced demolition for years.
After exhausting all avenues of the appeals process, the illegal encampment was ordered to be demolished by the Supreme Court in its final ruling in 2018.
Since then, however, governments led by Netanyahu, Naftali Bennett, and Yair Lapid have requested postponements for the implementation of the demolition order.
Khan al-Ahmar is built on state land allocated to a nearby Israeli town for the construction of an industrial zone. The encampment, which now houses some 180 people, was built without permits or master plan authorization.