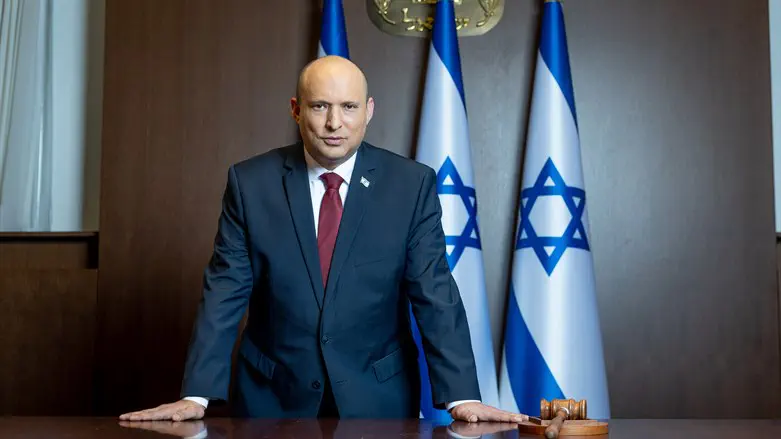 Naftali Bennett
Yonatan Sindel/Flash90
Former Israeli Prime Minister Naftali Bennett vowed to return to political life, hinting at a possible future bid for the premiership.
Bennett spoke at a gathering of American Jews in New York City Monday evening, discussing his year-long premiership, the Netanyahu government's plans to reform Israel's judiciary, Diaspora Jewish relations with Israel, and his own political prospects.
The event was hosted by the United Jewish Appeal – Federation of New York at Manhattan's Temple Emanu-El Streicker Center.
When asked whether he will return to politics after having stepped down as premier last July, Bennett compared himself to Yitzhak Rabin and Benjamin Netanyahu, two prime ministers who left politics only to return to the premiership years later.
"In Israel, we can be recycled. It never ends. Rabin was prime minister from '74 to '77 and came back. Bibi was prime minister from '96 to '99 and he's back. So I'll be back."
After his narrow coalition government failed to pass an extension of the Judea and Samaria regulation law – passed every five years to maintain the residency status of Israelis living in Judea and Samaria – Bennett resigned from the premiership, and last November resigned as alternate prime minister.
Leaving politics, Bennett was widely rumored to be planning a return sometime after the November elections.
Addressing criticism of the current government – including its plans to rein in the Supreme Court's judicial activism – Bennett urged Diaspora Jews not to "give up" on Israel.
"I urge you, don't give up on Israel, even if we're going through a midlife crisis."
"We will overcome this because the majority of the public wants a Jewish and democratic Israel, wants Judaism, does not want coercion."
"When your family member goes through a crisis, you don't give up on him, quite the contrary, you embrace him, you help him through this period."
Bennett, a prominent supporter of judicial reform in the past, this year criticized Justice Minister Yariv Levin's reform plan.
On Monday night, Bennett clarified that while he supports steps to restore the balance of powers between the branches of government, the current proposals "go way too far," in particular rejecting plans to increase the role of elected officials in appointing new judges.
The former premier also took a jab at a member of his government, slamming then-Health Minister Nitzan Horowitz's (Meretz) decision to allow leavened bread into Israeli hospitals during Passover as "foolish" and unnecessary.