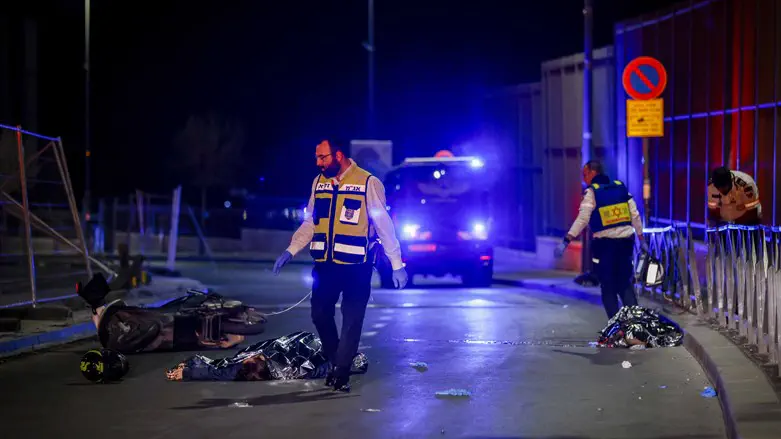 Site of the terror attack in Jerusalem
Olivier Fitoussi/Flash90
Avigdor Dreksler, a security expert and the owner of Avigdor 226, tells of a rising worry among the haredi public, given the feeling that the enemy has identified the haredi sector as a weak point.
"There's a tough feeling. The enemy looks for synagogues and religious symbols. Synagogue administrators call and tell me about hundreds of worshipers in synagogues where no one is armed. It creates great worry," says Dreksler, who points out that the fear has spread way past the synagogue and that he gets called to secure family events since people are afraid to come if there is not a straightforward security presence.
"You can also feel it in the center of town. There is a tense silence", he says and points out that there is a different reality now than during the wave of knife terror. "They understand that they have a large number of weapons. It's not just knives anymore."
To those synagogue administrators who are worried about their congregants' safety, Dreksler suggests stationing armed congregants at the entrance and ensuring that there is always at least one in the synagogue. In addition, he says the armed congregants should be marked with a vest that allows the other congregants to identify them. On top of that, he points out that the presence of an individual identified as armed can deter a terrorist from carrying out an attack.
Dreksler also stresses the importance of the armed congregant carrying a cell phone, even on the Sabbath, per the rabbinic rulings. In a situation with more than one armed congregant, the armed congregants should coordinate between themselves to prevent friendly fire.
Dreksler says that when a synagogue administrator asks for security advice, he asks him for photos of the synagogue's surroundings to see if there is an option to fence it off, a move that has proven effective. In addition, he suggests checking the synagogue's security cameras daily to ensure that no suspicious individuals did not come to collect information about the house of worship. In a situation where minorities work in the area, they should be inspected.
Regarding the arming of congregants, Dreksler says that the matter is in the hands of the Ministry of National Security. He can only train people in advance about their chances of receiving a weapons permit. Someone who did not serve in the IDF and is interested in receiving a weapons permit must be older than 27 and reside in a locality that would justify it. In this regard, he adds that there is a new criterion to make it easier to receive a permit, among them holding a position in a synagogue. "We run into many individuals from the haredi community who want to arm themselves. The National Security Ministry requires trainees to fire 100 rounds to receive a license, which is nothing. We run a course to get acquainted with the weapon so its carrier will know it better."