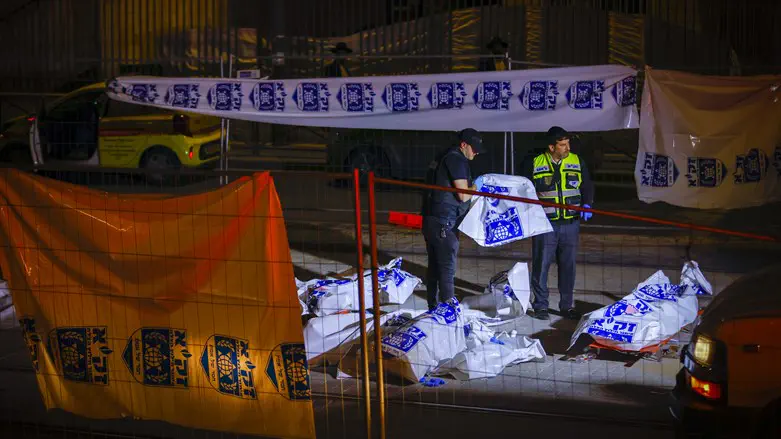 scene of the attack
Olivier Fitoussi/Flash90
The Arabic Research Division of the Im Tirtzu Movement has revealed serious incitement by students at Hadassah College.
A student named Onad, studying social work, posted a status on WhatsApp in which she wrote: "The 21-year-old heroic martyr from East Jerusalem, he brought our revenge."
A student named Ahmad Kalouti, studying biotechnology, uploaded a WhatsApp status in which he quoted a verse from the Koran: "Allah will abuse them and defeat them." In addition, he wrote, "We let them drink from the same cup they let us drink from, only we are more steadfast."
The President of Hadassah College, Professor Bertold Fridlender, released a letter to students "In the evening, we received information originating from the organization, Im Tirtzu, about statements in the WhatsApp status of 2 college students related to the murderous attack that occurred on Saturday in Neve Ya'akov. We will not be able to put up with explicit support for a terrorist attack.
Furthermore, we will not allow entry to the college for students whose conduct harms the sense of security of the faculty members and all the students at the college. Hadassah College has always been a model for joint living, and we will continue to do all that we can to make it a safe place for all groups and populations on campus."
In response to the words, Shai Rosengarten, the head of the education department of the If You Want movement, calls on the Israel Police to immediately arrest the supporters of the terrorists and on the college administration to keep them away:
"The entire nation of Israel is shocked and pained by the murder of 7 innocent civilians and the wounding of another 5 Israelis. It turns out that at the same time there are Israeli students who see the need to praise these attacks. We call on the administration of Hadassah College to immediately remove the students who published the praise of the murderers - there is no place in the academy for supporters of terrorism in addition, the Israel Police must act immediately to arrest the supporters of terrorism before they carry out an attack on their classmates!"