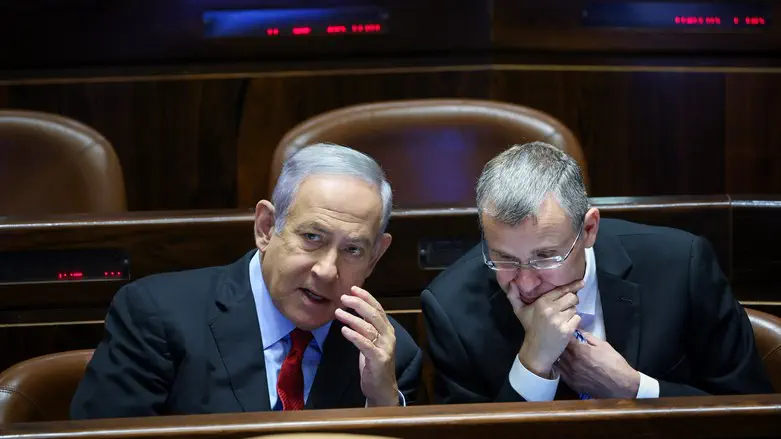 Yariv Levin and Benjamin Netanyahu
Noam Moskowitz/Knesset spokesperson
Justice Minister Yariv Levin and Prime Minister Benjamin Netanyahu plan to advance the judicial reform plan in its current form despite the criticism of the bill, without any significant compromises, Israel Hayom reported Sunday morning.
According to the report, Netanyahu and Levin will only be open to significant negotiations over the content of the reform after it is passed in its first of three readings in the Knesset.
The Knesset's legal adviser published an opinion strongly criticizing the judicial reform bill submitted by Knesset Constitution Committee chairman MK Simcha Rothman, which includes most of the elements of Minister Levin's proposal with minor changes. Rothman's version includes changing the committee for the selection of Supreme Court justices, so that it will consist of representatives from the three branches of government: the Knesset, the government and the judges. According to the bill's wording, politicians will have a majority in the committee. Also, Rothman proposed to limit the Supreme Court's judicial ability to invalidate laws.
"MK Rothman's version of the bill seriously harms the ability of the court to act as a brake on the power of the legislative and executive authorities," wrote the legal advice to the Knesset. "Even in a comparative view of other democracies, it seems that it is difficult to find a combination of such significant restrictions on the ability of the judicial authority to review the two other branches, the legislature and the executive."
"Our position is that the proposed wording of each of the aforementioned amendments, and certainly their combination, as well as the absence of elements that limit the legislative and executive authorities in their actions - create an arrangement that is not balanced at all, and even extremely unusual from a comparative perspective. The arrangement expresses a very significant reduction in the brakes imposed on the two branches, the legislative and the executive, and leads to a serious violation of the principle of their separation and the decentralization of governmental power, which is a core principle in a democratic regime. Furthermore, in view of the importance of putting brakes on governmental power as a central means of protecting human rights and the 'rules of the game' of the democratic regime, a serious concern arises that the proposed arrangement will allow a serious violation of the protection afforded to these rights and principles," wrote the Knesset's legal adviser.
The opinion also attacked MK Rothman;s change to committee for selecting judges: "The proposed composition raises significant concerns about the politicization of the judicial system, and may even lead to judges being selected mainly on the basis of their political identity and personal preferences on the subject, instead of on the basis of their professionalism."