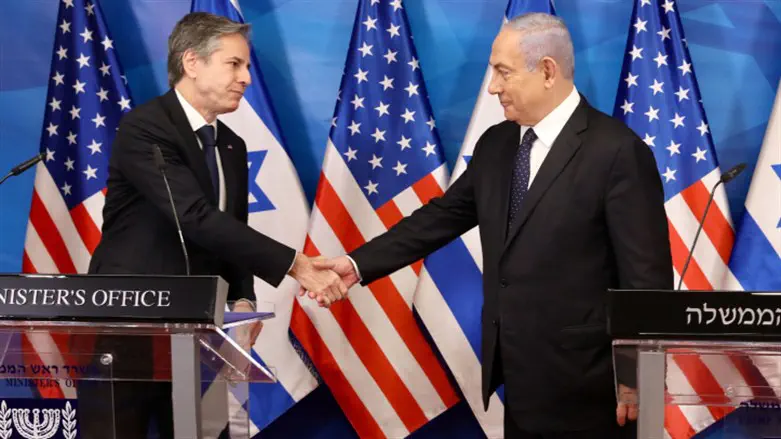 Antony Blinken meets Netanyahu
Marc Israel Sellem/POOL
US Secretary of State Antony Blinken took off on Saturday night for a trip to the Middle East which will see him visiting Israel.
"Headed to Egypt, Israel, and the West Bank. My fourth trip to the region as Secretary underscores our commitment to deepen bilateral relationships and people-to-people ties, promote human rights, and strengthen regional and global security," he tweeted, adding photos of himself before take-off.
The State Department announced Blinken's visit late last week, saying the Secretary of State would "consult with partners on a range of global and regional priorities, including Russia's invasion of Ukraine, Iran, Israeli-Palestinian relations and preserving the two-state solution to the Israeli-Palestinian conflict, and the protection of human rights and democratic values, among other topics."
Blinken will visit Egypt on Sunday and Monday, where he will meet with President Abdel Fattah Al-Sisi, Foreign Minister Sameh Shoukry, and senior Egyptian officials.
On Monday, he will then move on to Jerusalem and Ramallah. In Israel, he will meet with Prime Minister Benjamin Netanyahu, Foreign Minister Eli Cohen, and other senior leaders to discuss the enduring US support for Israel's security, particularly against threats from Iran.
"The Secretary will also discuss Israel's deepening integration into the region, Israeli-Palestinian relations and the importance of a two-state solution, and a range of other global and regional issues. In the West Bank, the Secretary will meet with Palestinian Authority (PA) President Mahmoud Abbas and senior PA officials to discuss Israeli-Palestinian relations and the importance of a two-state solution, political reforms, and further strengthening the US relationship with the Palestinian people and leadership."
Blinken's visit follows a weekend of terrorist attacks in Israel, which included the massacre in the Neve Yaakov neighborhood of Jerusalem on Friday night, in which seven Israelis were murdered.
State Department deputy spokesperson Vedant Patel condemned the attack on Friday, describing it as "absolutely horrific".
Patel indicated that there are no changes to Secretary of State Antony Blinken's scheduled visit to Israel this weekend.
Late on Friday night, President Joe Biden held a phone call with Netanyahu in which he condemned the attack and said the US would provide Israel with assistance.