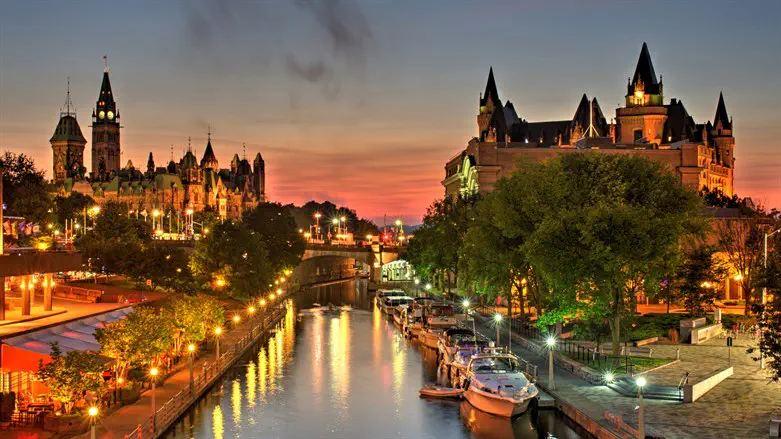 Ottawa, Canada's capital
iStock
A new poll found that most Canadian Jews do not support the Israeli government's proposed changes to the judiciary or to the Law of Return.
Nearly three-quarters of respondents (74%) to the EKOS poll said that they were against the government's proposed judicial reforms while over half (60%) responded that they were against the proposed changes to the Law of Return that would prevent someone with only one Jewish grandparent from applying for Israeli citizenship, according to the Canadian Jewish News.
The survey also found that a majority of the Canadian Jewish community (59%) believes that Israel is "moving in the wrong direction," while 13% said the Jewish State was moving in the right direction and 20% were uncertain.
Three-quarters of those polled described themselves as either "very attached" (34%) or "somewhat attached" (41%) to Israel, according to the survey of 288 Jewish adults.
The survey found that 54% of Canadian Jews oppose expanding communities in Judea and Samaria while 23% said they were in favour of "incorporating parts of [Judea and Samaria] into the State of Israel."
The poll also asked Canadian Jews about their attitude toward Minister of National Security Itamar Ben Gvir and Minister of Finance Bezalel Smotrich. Over half of respondents (58%) opposed the Canadian government meeting with either minister.
Professor Robert Brym, of the University of Toronto's Department of Sociology and Centre for Jewish Studies, who compiled the poll, explained that further data is needed to corroborate its conclusions.
"However, this poll provides a fair baseline representation of Jewish community perspectives in issues of viral importance to the approximately 404,000 Canadians who identify as Jewish by religion or ethnicity," he said in a statement.
(Israel National News' North American desk is keeping you updated until the start of Shabbat in New York. The time posted automatically on all Israel National News articles, however, is Israeli time.)