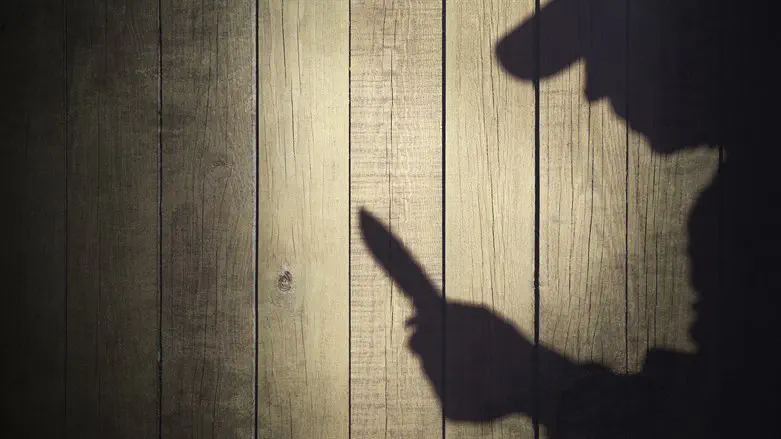 Stabbing knife attack
iStock
Yesterday (Tuesday), the IDF Military Court of Appeals approved the appeal of the Military Prosecution and extended the sentence of Azzam Shalaldeh. Shalaldeh was convicted of attempting to intentionally kill (equivalent to the crime of murder in Judea and Samaria) Israel Ben Aharon and Islam Abid, in addition to illegally possessing a knife.
Following the appeal, it was decided that Shalaldeh would serve a twenty-year prison sentence rather than the 17 years he had initially been sentenced to.
In October 2015, Shalaldeh hurled stones at a truck driven by Islam Abid near Pnei Kedem. Shalaldeh attempted to open the truck's doors as Abid came to a stop. Israel Ben Aharon arrived at the scene in a personal vehicle. Shalaldeh ran toward Ben Aharon's vehicle, hurled large stones in his direction and proceeded to stab him in the chest with a knife.
Following the appeal of the Military Prosecution, the Military Court of Appeals extended Shalaldeh's sentence to twenty years in prison overall. Shalaldeh was also given a suspended prison sentence and ordered to pay a fine, in addition to paying 35,000 NIS in damages to the victims of the crime. The Military Prosecution will continue to impart justice to all those who take part in harming human life and the security of the region.
Azzam Shalaldeh was taken into custody in November 2015 and has been detained since. The indictment against Shalaldeh was filed in December of 2015. The case continued for three years, among other issues, due to the prosecution's witnesses failing to appear for the hearings. Shalaldeh pleaded guilty in January 2019 and was convicted of the crimes and sentenced to 17 years in prison.