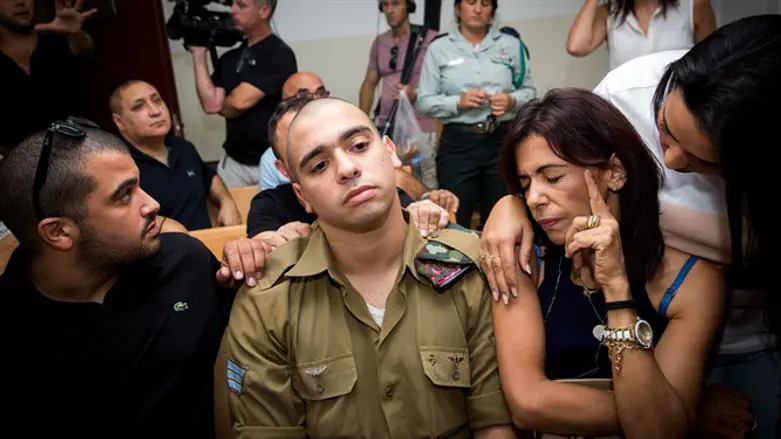 Elor Azariya sits with his family at his trial
Miriam Alster/Flash 90
The head of the panel of judges which will hear the appeal filed by the lawyers of Sgt. Elor Azariya is to be the chief justice of the Military Court of Appeals, Maj. Gen. Doron Peles.
On the panel with him will sit the chief justice of the National Labor Court, Yigal Plitman, Jerusalem District Court Judge Zvi Segal, Maj. Gen. Eyal Eisenberg, and and Brig. Gen. Avi Peled.
Azariya's parents visited the Knesset yesterday, where they met with a number of MKs.
"They've turned us into enemies of the state," Charlie Azariya told reporters outside of the Knesset. "That's wrong – we love the people, the state, and the land."
Charlie Azariya compared his family's tribulations since the investigation of their son began last March with the Prime Minister's own legal woes, saying he could identify with Netanyahu's frustration with the media.
"The media made us into caricatures," said Charlie Azariya. "Today I feel exactly what the Prime Minister of Israel, Mr. Netanyahu, feels. The same way they degrade him and his wife, they've made us out to be enemies of the people and it's just not true."
"I want all of the bleeding hearts in the media who are smearing my son to understand something: you're an embarrassment. Because while they were at home with their wives, by son was guarding [them], like all the other heroic IDF soldiers."
Oshra Azariya, Elor's mother, said: "I sent my son to serve his country and to defend the nation, and I demand that he brought back home. We have suffered for the past year, the year in which our child has suffered. Give me back my son, who is innocent. I appeal to everyone, even his commanders who betrayed him and threw him into this arena."