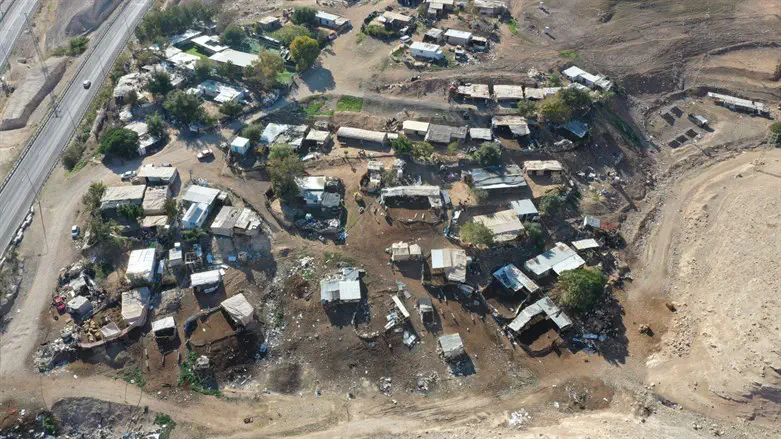 Khan al-Ahmar
Otef Yerushalayim Forum
The coordinator of the "Save Khan al-Ahmar" campaign, Abdullah Abu Rahma, is threatening an uncompromising fight against any intention to evacuate the illegal Bedouin outpost that was established on state land in Area C, about ten kilometers east of Jerusalem.
In September of 2018, the Supreme Court ruled that the government could demolish the outpost. However, the demolition has yet to be carried out and the State of Israel has asked the Supreme Court for several extensions, most recently this past October.
The deadline for the State of Israel's response to a petition that asked to evacuate the residents of Khan al-Ahmar is approaching, and Knesset members of Otzma Yehudit have demanded that the evacuation decision be implemented.
In an interview with Hamas' Palestine Al Yawm news agency, Abu Rahma said that the residents of Khan al-Ahmar are conveying the message, "We will not leave the place even if they destroy it on our heads."
The residents of Khan al-Ahmar, he continued, draw encouragement from the position of the then-chief prosecutor of the International Criminal Court in The Hague published in 2018, which said she "is following with concern the planned evacuation of the Bedouin community in Khan al-Ahmar in the West Bank."
Abu Rahma called on the residents of Khan al-Ahmar to show a firm stand and oppose the "criminal occupation", stressing, "We will protect Khan al-Ahmar at all costs, and we will thwart all plans of the occupation that will be in this area through complementary activities between the residents, the local government, the Palestinian Authority and human rights organizations."
MK Danny Danon (Likud) tweeted that the government should evacuate the outpost immediately. "Khan al-Ahmar is an illegal Bedouin settlement established on state land near Jerusalem. The Supreme Court ruled that Khan al-Ahmar should be evicted, but so far this has not happened. Now our government is required to respond to the Supreme Court by the end of the month. The answer should be clear - Khan al-Ahmar will be evacuated."