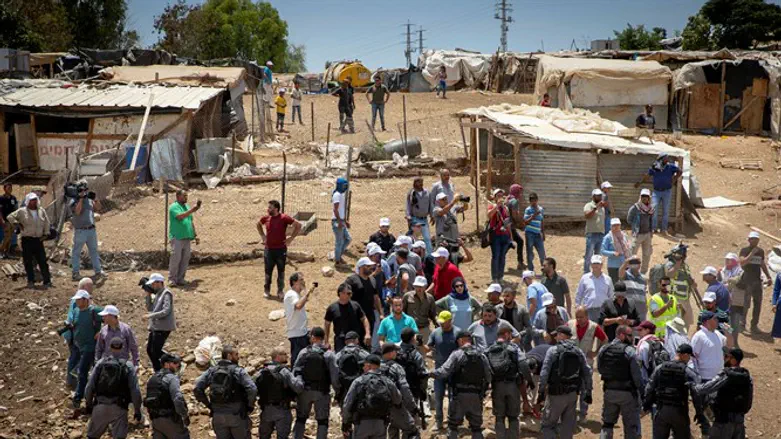 Police prepare to evacuate Khan al-Akhmar
Hillel Meir/TPS
The Israeli Supreme Court ruled on Wednesday against an illegal Arab outpost built next to an Israeli town east of Jerusalem, giving a green light to the outpost's demolition.
The outpost, Khan al-Ahmar, was built in the 1990s on land belonging to the Israeli town of Kfar Adumim east of Jerusalem. The encampment is home to some 170 Bedouin, who have expanded the community in recent years with the aid of foreign governments.
Israeli courts approved the outpost's demolition, but in July the Supreme Court froze plans to evacuate Khan al-Ahmar, pending an appeal by residents.
Israeli security forces had been preparing for the planned demolition, which was set to commence just hours before the court intervened.
But on Wednesday, the Supreme Court ruled against the residents, rejecting their claims and clearing the way for Khan al-Ahmar's evacuation.
"It is feared that there will be large riots and violence during the demolition, especially by non-residents, given the calls on social media to come and take part in violent protests," Justice Yitzhak Amit said.
"I hope that the [demolition] orders will be carried out peacefully."
"The appeal before us is the fifth round in this saga," the three-judge panel wrote in their decision.
"In the ruing on previous appeals, we discussed the humanitarian complexities involved in the complete evacuation of the Khan al-Ahmar compound, but at the same time, there is no way to avoid carrying out the demolition orders. As difficult as an evacuation is, we can't get around the ruling, a definitive ruling made only recently."
Following the decision, the state will be able to implement the demolition orders after a one-week waiting period.
Defense Minister Avigdor Liberman praised the court's decision, and vowed to demolish the illegal community.
"Nobody is above the law, nobody will keep us from acting on our sovereignty and responsibility as a state," Liberman said in a statement.