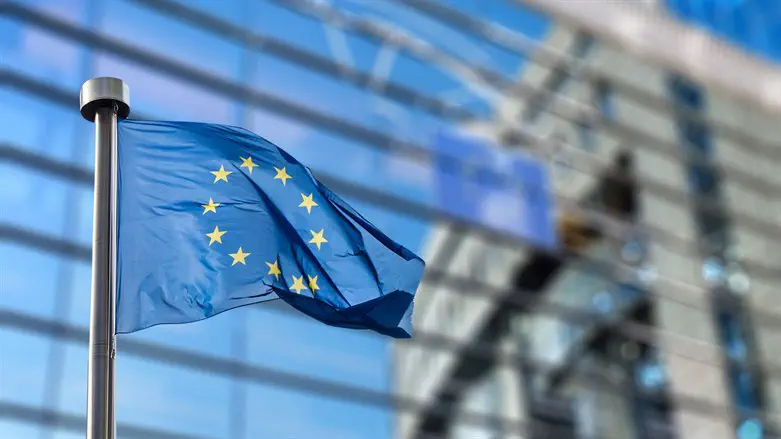 European Union flag
iStock
The European Union (EU) will impose new sanctions on 37 Iranian officials and organizations over the Islamic Republic's crackdown on protests, but is still debating listing the Revolutionary Guard as a "terrorist" group, diplomats said Friday, according to a report in the AFP news agency.
Foreign ministers from the bloc are to agree to adopt the fourth package of sanctions on Tehran over its repression of demonstrators at an already-scheduled meeting in Brussels on Monday.
The EU has already imposed asset freezes and visa bans on more than 60 Iranian officials and entities over the crackdown on protestors, including targeting Tehran's "morality police", Revolutionary Guard Corps commanders and state media.
But the 27-nation EU has so far stopped short of blacklisting the Revolutionary Guard itself as a terror group despite calls from Germany and other member states to take the step.
On Wednesday, the European Parliament called for the EU to list the IRGC as a terrorist organization, blaming the force for the repression of protesters and the supply of drones to Russia.
A total of 598 members of the parliament voted in favor, while nine voted against and 31 abstained.
The European Parliament has no power to compel the EU to add the IRGC to its list, but the text proposed by Polish conservative lawmaker Anna Fotyga represented a clear political message to Tehran.
Iran, in response, warned on Thursday that the European Union would "shoot itself in the foot" if it designated the IRGC as a terrorist entity.
"We have repeatedly said the Revolutionary Guards are a formal and sovereign organization whose role is central for guaranteeing Iran's security," Iran's Foreign Minister, Hossein Amir-Abdollahian, said during a phone call to the EU's High Representative for Foreign Affairs, Josep Borrell.
"Steps taken by the European Parliament to list the organization as terrorist are in a way a shot in the foot of Europe itself," he added.
Protests have gripped Iran following the September 16 death of 22-year-old Amini after she was arrested by the morality police.
Hundreds of protesters have been killed in the nationwide unrest, including dozens of minors. In addition, Iranian authorities have executed several people who were convicted of involvement in the protests.
(Israel National News' North American desk is keeping you updated until the start of Shabbat in New York. The time posted automatically on all Israel National News articles, however, is Israeli time.)