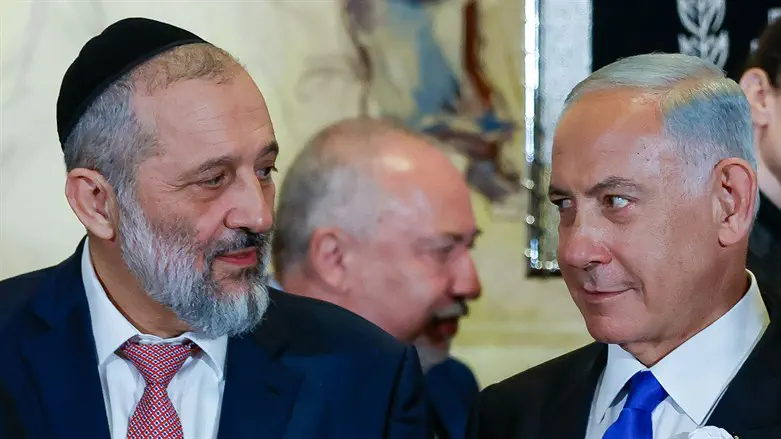 Deri (left) and Netanyahu
צילום: אוליביה פיטוסי, פלאש 90
Israeli Prime Minister Benjamin Netanyahu will not defy the Supreme Court if it rules that Interior Minister Aryeh Deri cannot serve in high office, Israel Hayom reported Wednesday morning.
Citing sources close to the prime minister, the report claimed that should the court rule that Deri's 2022 conviction constitutes moral turpitude despite the passage of the "Deri Law" last month, or strikes down his appointment under the reasonableness doctrine, Netanyahu will comply with the ruling.
Given that Deri has vowed not to resign if the court rules against him, Netanyahu would be forced to fire the Shas party chairman from his government – a step the prime minister is prepared to take, the report said.
"The Prime Minister will express his opposition, but in the end will fire Deri, and will highlight to the public this situation, in which the people elected a person, whom the judges then rejected," one of the sources cited in the report said.
Should the court rule against Deri's appointment, however, the sources said, Netanyahu would use the ruling to broaden support for his government's proposed judicial reforms.
"If the Supreme Court will force Netanyahu to fire Deri, he will adhere to the Supreme Court ruling, but everyone has to understand that the court will be forcing the prime minister against his will to fire one of his ministers."
"We are in the midst of a major struggle, and here is an opportunity to show people who still don't think that we need the Justice Minister's reforms how wrong they are."
If the court does rule against Deri, the Interior Minister has demanded that Netanyahu fast-track one of the bills in the proposed package of judicial reforms which would prevent the judiciary from overturning government decisions on the basis of the reasonableness doctrine.
The measure has already been proposed by Justice Minister Yariv Levin, but the Shas party is now reportedly demanding that if the doctrine is used to strike down Deri's appointment, the bill removing it the doctrine from Israel's legal code should be passed immediately, to allow Deri's return to the government.