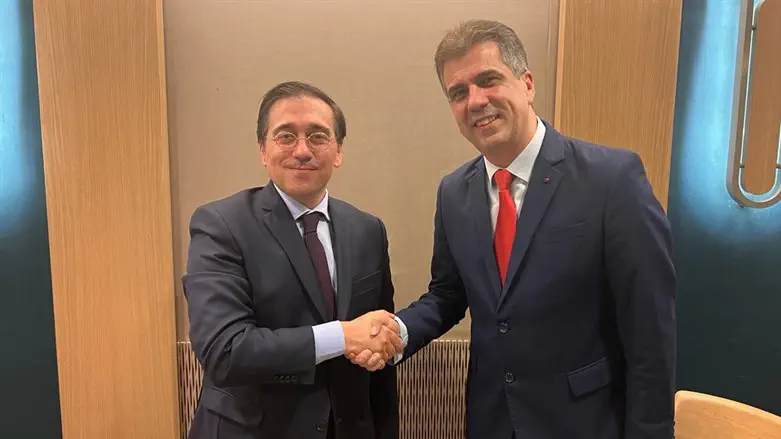 Minister Eli Cohen with Spanish counterpart
Foreign Ministry spokesperson
Foreign Minister Eli Cohen met on Tuesday with Spanish Foreign Minister José Manuel Albares at the World Economic Forum in Davos.
Cohen congratulated his Spanish counterpart on Spain's term in the presidency of the European Union, which will begin in the middle of the year, and expressed hope that his country would lead a constructive and balanced line of the EU towards Israel. He noted that Israel considers it important to work together with European countries and with the European Union, in order to realize the potential of cooperation between the parties to new heights.
Cohen expressed his appreciation for the role and contribution of Spain in the UNIFIL peacekeeping force which is stationed in Lebanon, but stressed that "the force will not be able to fulfill its role as long as Hezbollah continues to resort to violence against the UN forces in the region, as has already happened recently in the incident in which a UNIFIL soldier from Ireland was killed."
Minister Cohen added that there are many possibilities for promoting relations between Israel and Spain, mainly in the fields of climate innovation, water, agriculture and desertification, and invited his counterpart from Spain to visit Israel in the coming months with the goal of strengthening the warm relations between the countries.
The two agreed that the Spanish minister will make an official visit to Israel during the month of May.