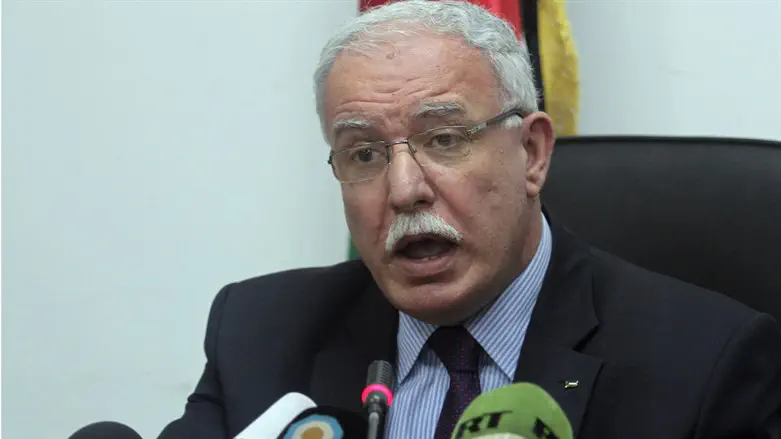 Riyad al-Malki
Flash 90
The Palestinian Authority (PA) on Monday accused Israeli authorities of humiliating its official in charge of foreign affairs, Riyad al-Malki, on his way to Cairo.
Ahmad Al-Deek, the political advisor of al-Malki, said in a statement quoted by the Xinhua news agency that Israeli authorities subjected al-Malki to "procedures and restrictions" while he was going through the crossing point on the border with Jordan as he left for Cairo.
"Israel is trying to obstruct his movement to impede the work of Palestinian diplomacy in an explicit and clear targeting of the international political, diplomatic and legal movement that he leads," the statement charged.
Al-Malki said last week that Israel had revoked his travel permit, telling reporters that he was returning from the inauguration of Brazilian President Lula da Silva when he learned about the move and was forced to wait for an hour in line with ordinary Palestinian Arabs to enter PA-assigned areas of Judea and Samaria via the Allenby Bridge border crossing from Jordan.
He said that Israel's actions are against international law and urged the international community to "take a clear position" on the matter.
Al-Malki's statement came a day after Defense Minister Yoav Galant ordered that the entry permits of three senior PA officials be rescinded after they entered Israeli territory to visit the home of terrorist Karim Younes, who was released from prison last week after serving 40 years for the murder of IDF soldier Avraham Bromberg in 1980.
Days earlier, Israel announced a package of sanctions targeting the PA in response to its bid to convince the United Nations General Assembly to back an International Court of Justice case against Israel.
The sanctions include a freeze on all Palestinian Arab construction in Area C of Judea and Samaria - including a crackdown on illegal construction - and the seizing of 139 million shekels of tax funds collected by Israel from PA workers on behalf of the PA. The money will be transferred to a fund for Israeli victims of Palestinian Arab terrorists.
The PA condemned the new sanctions, saying the measures will not prevent it from fighting "Israeli occupation"