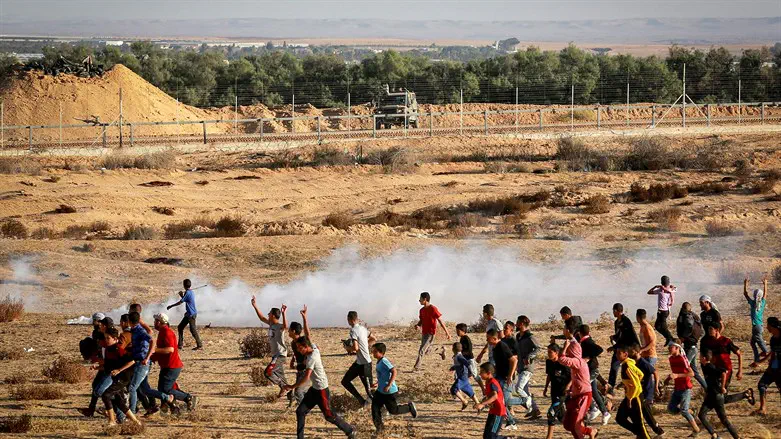 Hamas terrorists protest along the Gaza border
Abed Rahim Khatib/Flash 90
The Lebanese newspaper Al-Akhbar, which is affiliated with Hezbollah, reported on Monday that the Palestinian Arab organizations in the Gaza Strip recently held a series of meetings in which they discussed the challenges posed by the "fascist and racist government in Israel" and how to deal with it.
A Palestinian Arab source quoted by the newspaper said that at these meetings, assessments were presented which claim that "the Netanyahu government will lead to an explosion which means an almost certain confrontation in several arenas, including the Gaza Strip."
The report also said that, based on these assessments, the terrorist organizations decided to prepare for one or more rounds of conflict this year, as they are of the same opinion regarding the need to "prevent Israel from violating the existing situation in Jerusalem and Al-Aqsa Mosque or from taking dramatic measures in regards to prisoners, the situation of the Palestinians or annexation of Judea and Samaria."
The Palestinian Arab source quoted in the report said, "The resistance organizations believe that avoiding a reaction to the enemy's escalating measures" will encourage Israel to continue its attempts to establish facts on the ground.
A Hamas official told the newspaper that "Hamas recently warned the mediators against Israel crossing the red lines and committing new crimes against the Palestinian people, as it says these will lead to an explosion of the situation and a deterioration in the entire region."
Commenting on outgoing IDF Chief of Staff Aviv Kochavi's threats made in retirement interviews he gave this past weekend, the source said, "These reflect Israel's fear of a new military conflict breaking out and its understanding that the resistance organizations are advancing and improving in strength and military capabilities."