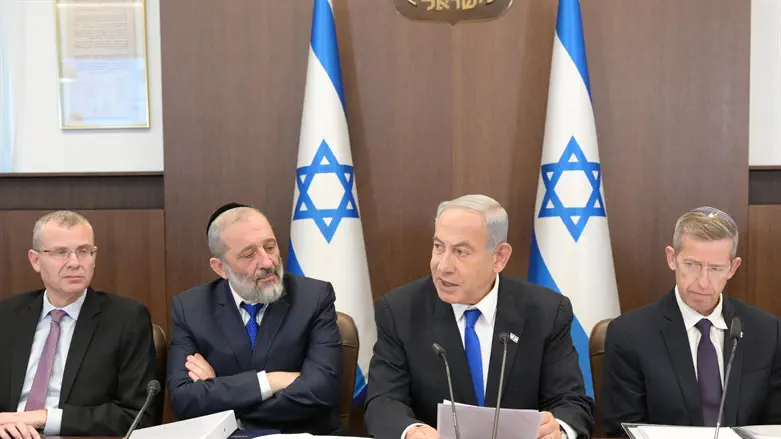 Netanyahu during cabinet meeting
Amos Ben Gershom/GPO
Israel will experience a massive increase in immigration from Western countries including the United States, Prime Minister Benjamin Netanyahu told cabinet members during a recent meeting.
According to a report by Israel Hayom Monday morning, during the course of Sunday's weekly cabinet meeting, the prime minister predicted that Israel's economic growth will surpass that of the United States.
Coupled with Israel's entry into the US visa waiver program, the Jewish state's strengthening economy will attract significantly more American Jewish immigrants.
"Israel's economy is getting stronger; we will outpace the US, and we have already outpaced Europe," Netanyahu said, according to the report.
"We will lead to aliyah from the West by would-be immigrants wishing to improve their [financial] wellbeing. Of course, there is also the rise of antisemitism, but this will not be the only driving force for moving to Israel, the flow will be great."
Netanyahu touted his foreign currency market reforms in the mid-1990s, arguing that market liberalization would fuel not only economic growth but also immigration to Israel.
"Look at what we did with these reforms. At the time, you could not move money out of Israel, and people warned that our measures would open up the floodgates. But then the exact opposite happened: Foreign currency actually moved into Israel."
"We cannot safeguard Zionism by fencing it in or by restricting citizens' movements."
Israel is currently working with the US to join the visa waiver program, which would allow Israeli passport holders wishing to visit the US to enter the country without first securing a visa from the US embassy or consulate in Israel.
While American expatriates living in Israel can enter the US freely on their American passports, Israeli spouses of American nationals must first obtain a visa.
The US and Israel have been engaged in talks for years in an effort to reach an agreement enabling Israel to join the visa waiver program. To comply with the program's requirements, Israel would be required to share data on travelers with the US, and to have fewer than 3% of visa applications to the US rejected during the preceding year.