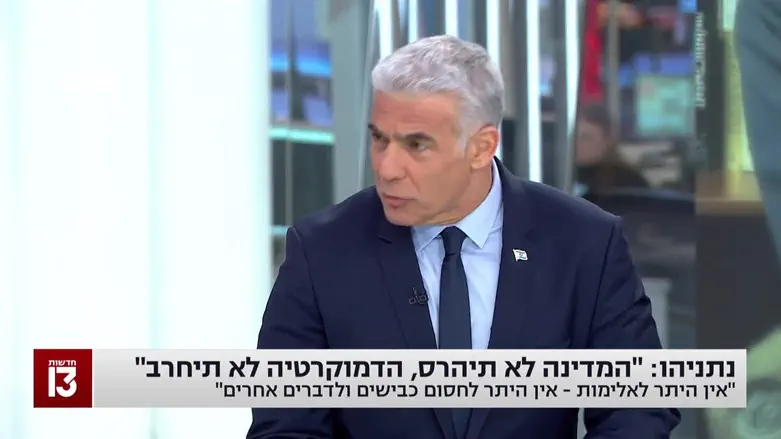 Yair Lapid
Channel 13 News
Former Prime Minister Yair Lapid strongly criticized President Isaac Herzog for not responding strongly enough to Justice Minister Yariv Levin's planned judicial reforms.
"Presidents always say something which is wishy-washy. It's time for the president to also say that if there is an attack on Israeli democracy, that not everyone is the same Those who do the running over and those who are run over do not sit in the same place," Lapid said in an interview with Channel 13 News.
He rejected former MK Yair Golan's call for civil unrest and claimed that the person who fanned the flames of hate is actually Prime Minister Netanyahu. "We are all against Yair Golan's call - he is already out of the Knesset. We will work on the streets, in the Knesset and in the courts."
"Netanyahu should calm down his own people - those who said that I and Benny Gantz should be arrested for treason because we speak against the government. This is what undemocratic governments do all over the world," he added.
Addressing Minister Levin's reforms, he said: "I've always been against judicial activism - that's not what's happening this time, they want to abolish democracy. Levin has never hidden the fact that he wants to overturn the judicial system."