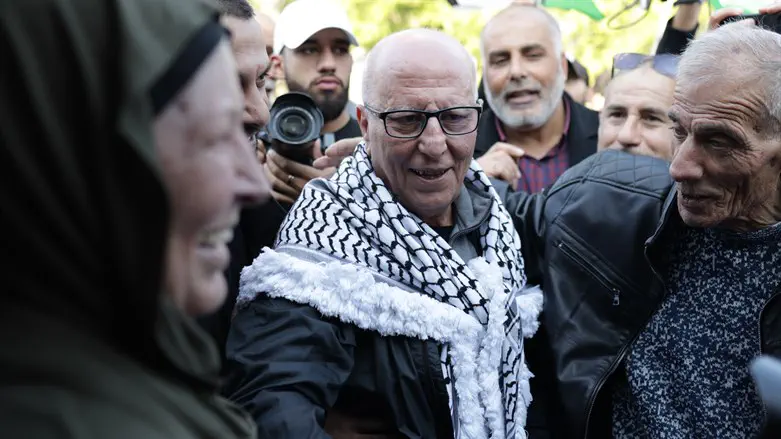 Karim Younes
Reuters
Karim Younes, the terrorist who was found guilty of murdering IDF soldier Avraham Bromberg in 1980, received a hero's welcome upon his release from prison after 40 years on Thursday. A series of celebrations were held in Younes' honor with the participation of senior members of the Israeli Arab leadership, including, among other things, the playing of nationalist music and the flying of balloons.
In an article published in the Jerusalem Center for Public and State Affairs, it was noted that at one of the events, the Al-Khail dance troupe from the city of Haifa performed a number of dances to nationalist songs in front of Younes. The band members appeared wearing green military pants, and one of the dancers stood in front of Karim Younes, saluted him and bowed to him.
One of the dances the troupe performed to is was 'Ra-itiyo, Hagibur, which translates to 'I saw him, the hero,' a relatively new song which was dedicated to Ibrahim al-Nabulsi, a terrorist from the Al Aqsa Martyrs Brigade who was responsible for a number of deadly attacks on Israelis and one of the founders of the Lions Den terrorist organization.
The lyrics, as translated into English:
saw the hero, I saw him, I saw the one who has no fear
I recognized him by his appearance, and blind is the person who does not see this
A curfew has been imposed, it is forbidden to walk around
[This is] the message of the villains [Israel], the times have changed
A resounding thunderclap, facing the worst of all
Oh [the] sniper [shooting at] soldiers, blowing up the head of the Yamam [National Counter-Terrorism Unit]
I saw him walking calmly, marching with a rifle in his hand
His mother's voice calls to him, O mother, I will protect Palestine
I saw the hero at ease, guarding his country even though he could not be found
Walking calmly and confidently, masculine and radiating awe
I saw the lion marching proudly, and facing war
He will explode in the face of the enemy, bright as lightning
I saw the hero, I saw him, I saw the one who has no fear
I recognized him by his appearance, and blind is the person who does not see this