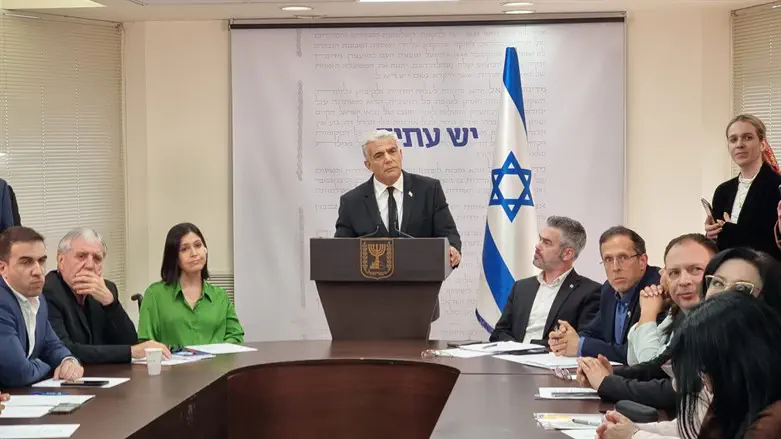 Lapid at faction meeting
Israel National News
Opposition leader Yair Lapid strongly criticized the proposed judicial reforms of Justice Minister Yariv Levin at the start of the weekly Yesh Atid faction meeting Monday.
"This isn't judicial reform, this is extreme regime change, this is canceling the Declaration of Independence, this is cutting Israel off from the family of liberal countries. This is not fixing democracy, this is destroying democracy. A country where the government is allowed to do anything is not a democracy," Lapid said.
"A country that one morning eliminates all checks and balances on the government is not a democracy. Politicians will appoint submissive judges who will do what they are told. The judges will be the judges of the government. Any judge who agrees to be humiliated by the fact that this is his appointment process is from the beginning a servant of the government," he said.
"Yariv Levin's 'democracy' is a regime of one authority, where it is allowed to do whatever is wants. This is what Yariv always wanted, he was just waiting for Netanyahu to be weak enough to submit to his plan. If the government wants to abuse minorities, harm human rights, abolish freedom of expression, prevent us from running in the next elections - that's what will happen. The legal advisors will not stop them. They will be a rubber stamp.
"If the regime change proposed by Levin's opponent goes through, we will not be a democracy. The prices we have to pay for this are shocking. In the economy, in security, in foreign relations. The government knows it, it just doesn't care. Like any non-democratic government in the world, all they care about is staying in power, not what will happen to the citizens," Lapid said.