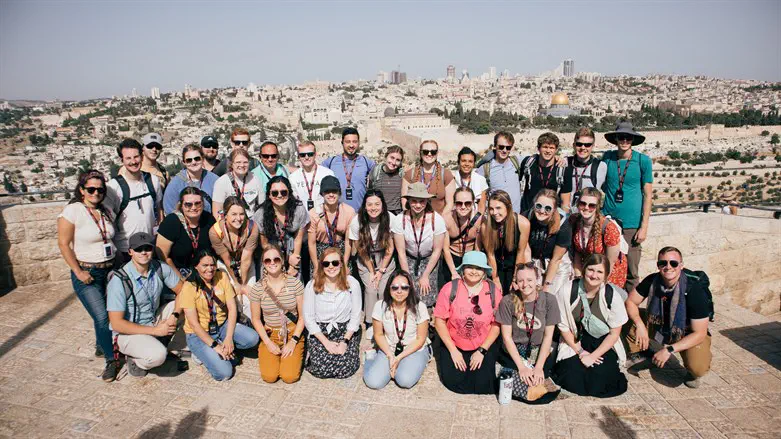 Passages group
Mattanah DeWitt
Passages, a program dedicated to bringing Christian college students with leadership potential to the Holy Land, marked a major milestone at the Ramada hotel in Jerusalem: 10,000 participants visited Israel with Passages.
Founded by board members who noticed that Christian tourists to Israel were primarily from an older generation and that Christian support for Israel was beginning to wane, Passages aims to connect the next generation to Israel, their faith, and the Bible through a spiritual rite of passage. The organization began by partnering with Christian universities and colleges, offering them a chance to recruit students from their various programs. That soon expanded to public universities and colleges as well.
This winter, Passages welcomed 450 participants from universities and organizations including Hannibal LaGrange University, Regent University, University of Chicago, Patrick Henry College, The King's College, Missouri Baptist University, Ignite Movement, Florida State University, Roberts Wesleyan College, Belmont University, Forge Leadership Network, Trinity Christian College, Hillsdale College, Oklahoma Baptist University, Grove City College, Houston Christian University, and Colorado State University.
"We are at a unique moment in history, where Jews and Christians can come together for the first time and create positive and impactful experiences," said Rivka Kidron, co-founder of Passages. "Now more than ever, Jews and Christians have to come together around our shared values and stand up for what's right in this world. Unfortunately, anti-Semitism is on the rise, and I think we need each other now more than ever. I feel very blessed to be here and living here at this moment, and share it with you."