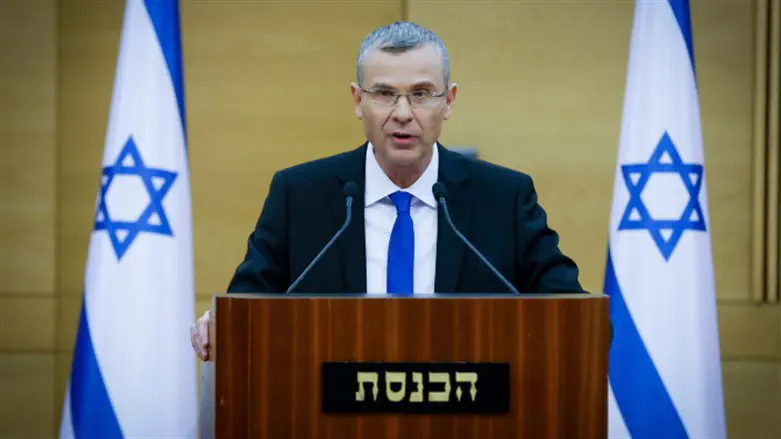 Yariv Levin
Olivier Fitoussi/Flash90
After announcing his planned judicial reforms last week, on Sunday, Justice Minister Yariv Levin met for the first time with Supreme Court President Judge Esther Hayut for an introductory meeting in the latter's chamber in the supreme court building.
Minister Levin's planned reforms are somewhat contentious and have garnered the opposition of many on the left and senior figures in the justice system.
Over the weekend, retired Supreme Court President Judge Aharon Barak attacked the reforms in multiple prime-time interviews. Telling Kan 11: "Minister Levin collected all the bad proposals that were made over the years and connected them together into some kind of chain that is suffocating Israeli democracy," said Barak.
He added, "there is no greater evil than this as a constitutional revolution. The most parallel thing to this is a revolution of tanks."
In an interview with Channel 13 News on Saturday, the retired judge said: "The ones that will be harmed first and foremost will be each and every individual - their rights, their honor, their lives, their bodies, their property, their freedom, their movement, their daily lives."
Justice Minister Levin responded to Barak's claims, stating: "He brought a tragedy upon Israel, and his ways contradict democracy. According to him, the judges trump the nation's elected officials who are supposed to reflect what the public wants," the minister told Kan 11. "Where was Barak when the court took authority and trampled democracy? His suggestions for dialogue are just a way to stall for time," he added.
"We all know how the courts look, the red tape. We all experienced the unbearable bureaucracy, which no government figure wants to take responsibility for and do something about because they receive a desist order and some other order from the court."