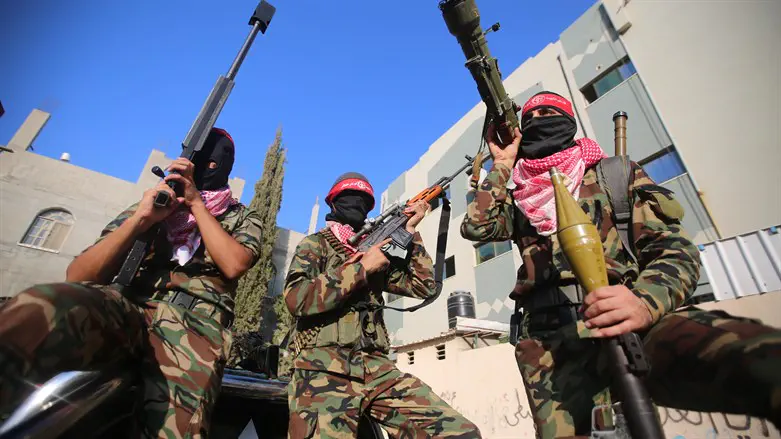 PFLP Gaza terrorists
Flash 90
Salah Hamouri, the terrorist who was deported to France last month, vowed to keep up his fight for the rights of the Palestinian Arab people despite the deportation.
In an interview with the Associated Press this week, Hamouri said his deportation "will leave me only the courage to continue my struggle against the Israeli occupation and to defend the rights of the Palestinian people."
"I can't imagine myself living out of Jerusalem and out of Palestine because this is the place where I grew up. This is the place where I want to live and this is the place where I want to go back," he added.
Hamouri is a French citizen who had been a permanent resident of Israel and has been active for many years in the ranks of the Popular Front for the Liberation of Palestine (PFLP) terrorist organization.
During this time, he organized, incited and planned to carry out terrorist attacks on his own initiative and on behalf of the organization against citizens and prominent figures in Israel, including a plot to assassinate Rabbi Ovadia Yosef.
Hamouri claimed in the AP interview that Israeli authorities followed through with his deportation to send a "clear message" that Palestinian Arabs in Jerusalem should leave the city in order to "have an Israeli majority in Jerusalem with a minority of Palestinian people."
He rejected Israel's claims that he was a member of the PFLP, telling AP Israel has no evidence of this and adding, "If they have had evidence, they would have been able to show it to the French authorities, which they did not."
"I am an advocate for the rights of the Palestinian people… and human rights and I am a lawyer. I defended Palestinian political prisoners and it's my right," he claimed.
Hamouri also criticized France which, he said, didn't "work enough to help me and my cause" and opted not to use "means of pressure" at its disposal. He urged French authorities "to use the best means of pressure so that I can go back home."