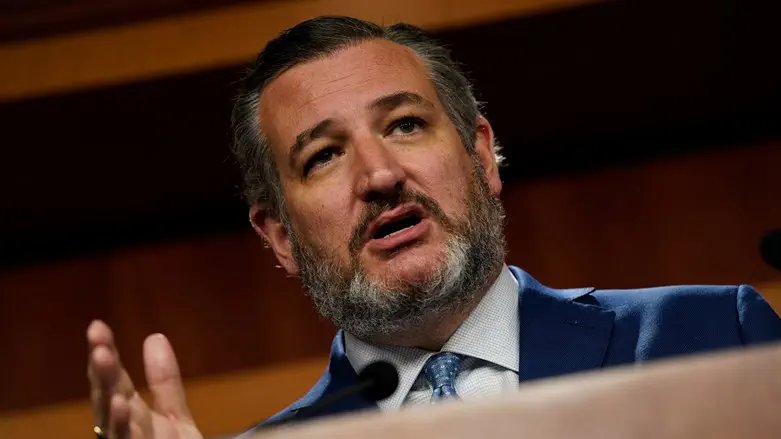 Ted Cruz
Reuters
US Senator Ted Cruz (R-TX), a member of the Committee on Foreign Relations, blasted the Biden administration on Wednesday, after top administration officials condemned Israel and suggested that the government may be changing the "status quo" regarding the Temple Mount following National Security Minister Itamar Ben Gvir's visit to the compound.
"The Biden administration's pathological obsession with undermining Israel is endangering the national security of America and our allies," said Cruz.
"A visit by a minister from Israel's government to a site inside Israel is not a change in any status quo arrangement, and it should not be controversial for a Jew to visit the holiest site in Judaism," he clarified.
"The statements from the Biden White House and State Department, which suggest otherwise, will further destabilize the Middle East and risk inciting terrorism. They convince Palestinian officials that compromise is unnecessary because Democrat administrations will coerce our Israeli allies into making dangerous concessions."
Cruz said that the Biden administration "has consistently sought to undermine Israel's security and sovereignty over its territory. It prohibited even mentioning the 'Abraham Accords,' sought to open a Palestinian consulate in Israel's capital Jerusalem, unleashed the FBI against the Israeli army, and publicly ostracized parts of Israel's democratically-elected government."
"Meanwhile, the administration is pouring over a billion dollars into Palestinian areas and bringing officials from the terrorist Palestine Liberation Organization to Washington, D.C. Now it is doubling down on these disastrous policies," he concluded.
State Department spokesperson Ned Price condemned Ben Gvir's visit to the Temple Mount at said at Tuesday's daily briefing, "We are deeply concerned by the visit of the Israeli minister at the Temple Mount/Haram al-Sharif. This visit has the potential of exacerbating tensions and lead to violence."
A spokesperson for the US Embassy in Israel said that Ambassador Tom Nides "has been very clear in conversations with the Israeli government on the issue of preserving the status quo in Jerusalem's holy sites. Actions that prevent that are unacceptable."
Nides himself criticized the Israeli government on Tuesday morning.
Speaking with Axios' Barak Ravid shortly after Ben Gvir's visit, Nides protested any perceived changes to the status quo on the Temple Mount.
"To be very clear - we want to preserve status quo and actions that prevent that are unacceptable. We have been very clear in our conversations with the Israeli government on this issue," he said.