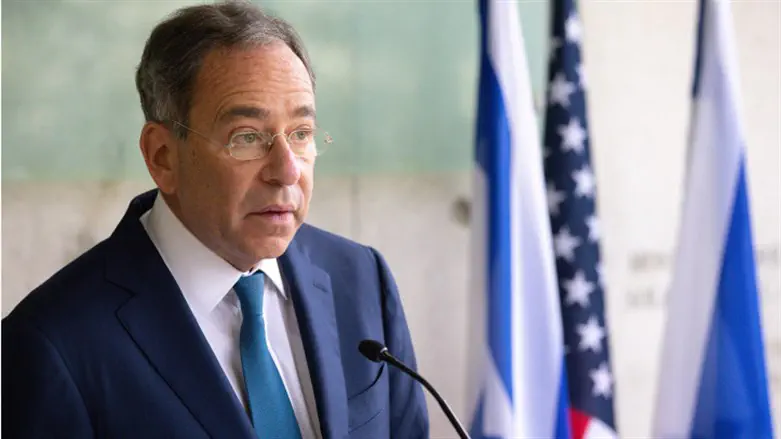 US Ambassador to Israel Thomas Richard Nides
Olivier Fitoussi/Flash90
US Ambassador to Israel Thomas Nides chastised the Israeli government Tuesday morning, after National Security Minister Itamar Ben-Gvir visited the Temple Mount.
Speaking with Axios reporter Barak Ravid shortly after Ben-Gvir's visit, Nides protested any perceived changes to the status quo on the Temple Mount.
"To be very clear - we want to preserve status quo and actions that prevent that are unacceptable. We have been very clear in our conversations with the Israeli government on this issue."
Ben-Gvir made his first visit Tuesday morning to the Mount since taking office last Thursday.
Escorted by his bodyguards and police officers, toured the holy site without event.
"Our government will not surrender to the threats of Hamas," the minister declared. "The Temple Mount is the most important place for the people of Israel, and we maintain the freedom of movement for Muslims and Christians, but Jews will also visit the site. Those who make threats must be dealt with an iron hand."
Ben-Gvir ascended the Mount despite reports Monday that he had agreed to push off his visit after meeting with Prime Minister Benjamin Netanyahu.
Israeli security officials had warned the prime minister that Ben-Gvir's visit could lead to a major escalation with terrorist forces in Judea, Samaria, and Gaza.
On Sunday, the Hamas terror organization threatened Israel in response to Ben-Gvir's planned visit.
"The extremist Ben-Gvir is trying to convince his voters that he is implementing his promises by breaking into Al-Aqsa (Mosque)," said Harun Nasser El-Din, the Hamas official responsible for the issue of Jerusalem.
"We hold the government of the occupation responsible for any escalation if there is damage to Al-Aqsa (Mosque) or to our people who are clinging to Jerusalem," the Hamas official added.
"We call on our people to protect Al-Aqsa (Mosque), and we are sure that our people will thwart all attempts to impose a new reality on Al-Aqsa (Mosque)."