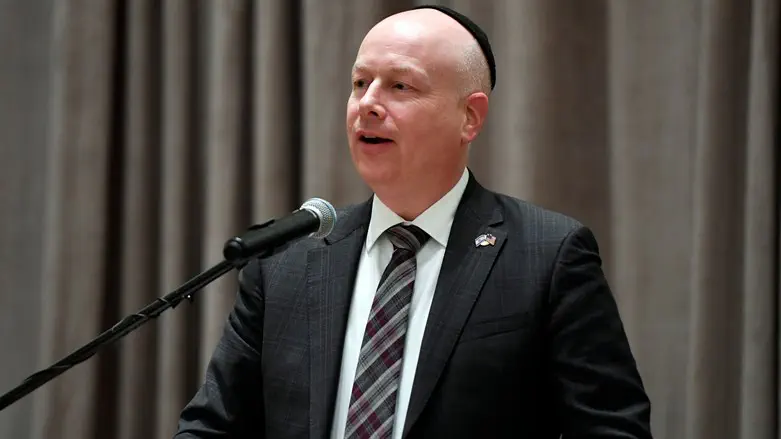 Jason Greenblatt
Reuters
Former White House Special Envoy to the Middle East Jason Greenblatt questioned US Ambassador to Israel's response to Israeli Minister Itamar Ben-Gvir's visit to the Temple Mount on Tuesday in which the ambassador said that the Biden Administration condemns all actions which undermine the "status quo" on the Temple Mount.
"Like so many things about this conflict people say different things-"status quo", "historical status quo", "legal status quo" & people define these differently. The demands to maintain the so-called status is completely unhelpful & deepens the problem," Greenblatt wrote in a Twitter thread Wednesday.
He continued: "And if we want to use "historical status quo" let's understand actual "history" and remember that Jews (of which I am a very proud one), had two Temples on the site and worshiped on this holy site for a very significant period of time, over the span of two Temple periods."
Greenblatt questioned why the current US administration endorses a policy which discriminates against Jews at the holiest site in Judaism. "In a world where people of good faith are attempting to fight against all sorts of discrimination (a good thing to be sure) why is the discrimination against Jews & Jewish prayer at the holiest site for Jews still demanded?"
"It never made sense to me that this wasn't part of the "status quo." That's why in the peace plan we released it called for all religions to be allowed to pray at this site which is holy to countless people around the world, and to end the discrimination against Jews at this site. To demand otherwise is completely dishonest. Let's end the discrimination, once & for all," he said.
Greenblatt was responding to statements by Ambassador Nides to Axios reporter Barak Ravid shortly after Ben-Gvir's visit, in which Nides protested any perceived changes to the status quo on the Temple Mount.
"To be very clear - we want to preserve status quo and actions that prevent that are unacceptable. We have been very clear in our conversations with the Israeli government on this issue," Nides said.