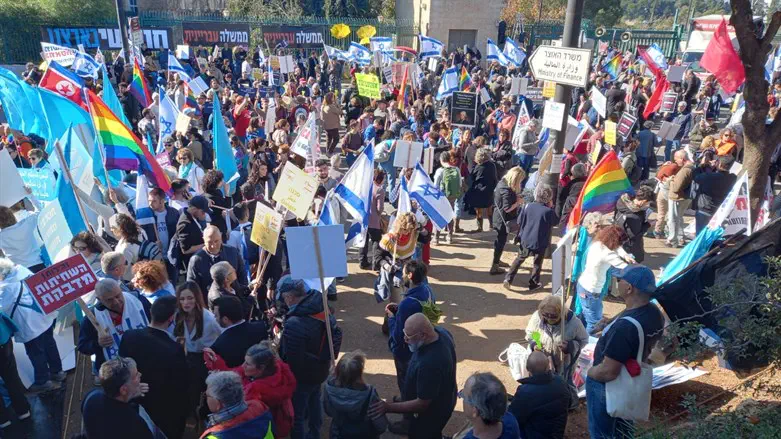 Movement for Quality Government protest near the Knesset
Movement for Quality Government
A huge police contingent was deployed around the Knesset building Thursday morning due to a rally organized by left-wing organizations protesting the establishment of Benjamin Netanyahu's sixth government.
Hundreds of left-wing activists, who began arriving at the area of the Knesset in the early morning hours, were removed to a distance of 300 meters from the Knesset gates due to a fear of provocations.
Political commentator Amit Segal wrote on his Telegram channel that such a huge security presence has never been seen before around the Knesset, and described "hundreds" of police officers at the site.
On Wednesday evening, Israel Police held a situational assessment prior to the swearing-in of the new government, together with interim Knesset Speaker Yariv Levin, Police Commissioner Kobi Shabtai, Jerusalem District police commander Doron Turgeman, and other officials.
The police later issued a statement: "We must point out and emphasize that this was a routine meeting as is held before every swearing-in of a government, whose purpose is to ensure that the session and ceremony run smoothly."