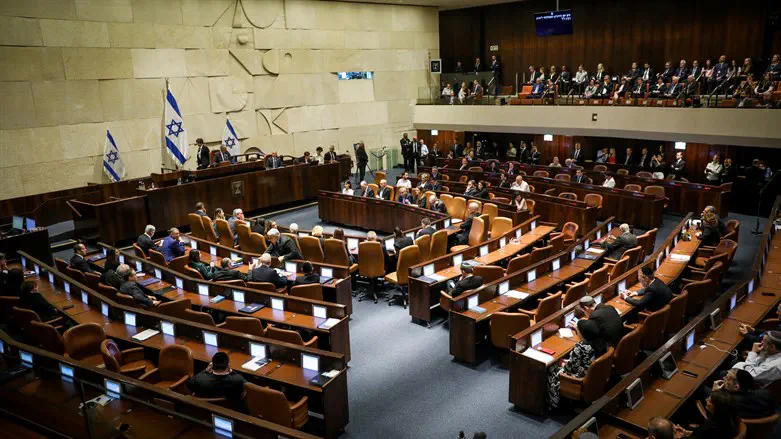 Knesset plenum
Noam Revkin Fenton/Flash90
The new government is to be sworn into office today, the first official day of its term, almost two months after elections were held.
Prior to the official swearing-in ceremony, the Knesset will open its session at eleven o'clock on Thursday morning with a speech by Prime Minister-designate Benjamin Netanyahu, who will present the basic outlines of his government and list the appointments he will be making to ministerial positions. President Isaac Herzog will participate in this special session, along with Supreme Court President Justice Esther Hayut.
Following the session, the head of the Opposition, Yair Lapid, will make a speech, followed by the heads of other parties, each of whom will receive fifteen minutes to speak from the podium.
After all the speeches are concluded, a vote will be held for the position of Knesset Speaker; Likud MK Amir Ohana is expected to be appointed to this position.
Only at this point will the new government be sworn into office, with each government member swearing to serve the State of Israel. This marks the end of the special Knesset session, following which there will be a toast to the incoming Knesset Speaker in the Jerusalem Hall, with the participation of the new Prime Minister, the Knesset Speaker, ministers, Knesset members, family members, and select others who have received an invitation to this event.
The official transfer of power between premiers will take place in the Prime Minister's Office, and is expected to be a brief, business-like affair with outgoing Prime Minister Yair Lapid handing over power to Benjamin Netanyahu.
The festive day will conclude this evening at the President's Residence, with the traditional photograph of all members of the new government together with the President.