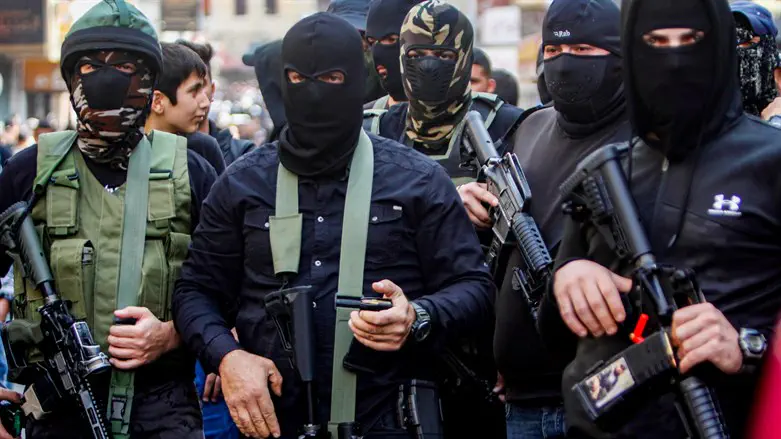 Lions' Den terrorists
Nasser Ishtayeh/Flash 90
Attempted shooting attack: Terrorists opened fire on an Israeli vehicle between Havat Gilad and Yitzhar in Samaria overnight Sunday.
The vehicle did not sustain damage and there were no injuries, but bullet casings were found nearby.
Security forces blocked the entrances and exits from Shechem (Nablus) in search of the terrorists.
The Lions' Den organization claimed responsibility for the incident.
In another incident, the Shechem Battalion of the Islamic Jihad claimed responsibility for firing at a military checkpoint near the Dayr Sharaf Junction, west of Shechem.
There were no injuries in this incident either.
On Friday, several shots were fired at the town of Shaked in Samaria. There were no injuries, but one bullet hit a home in the town.
The Islamic Jihad's Jenin Battalion claimed responsibility for the attack, saying, according to Channel 12 News, "Our fighters fired at the Shaked settlement at 5:30 p.m."
Overnight Thursday, two police officers were run over and shot by a terrorist in Kafr Qassem, located about 20 km east of Tel Aviv.
The terrorist who drove the vehicle that carried out the attack was shot and killed.
The officers, who suffered light injuries, were evacuated to Beilinson Hospital in Petah Tikva for treatment.
Special police forces were called to the scene to conduct searches for additional suspects, with the assistance of a police helicopter. A search of the building from which the attacker came found a Carlo-type weapon, ammunition, and firebombs. In addition, a knife was found in the terrorist's vehicle.