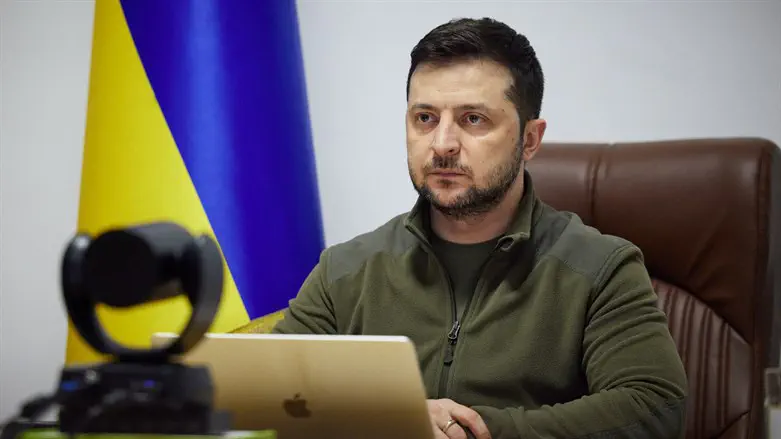 Zelenskyy
Reuters
The Russian embassy in Great Britain published an antisemitic meme on its official Twitter account showing Ukrainian President Volodymyr Zelenskyy with an abnormally large nose.
The meme depicts Zelenskyy in a scene from the opening to the Simpsons cartoon, continuously writing on a chalkboard; 'I will not fire missiles towards Poland anymore.'
Last Tuesday, a Ukrainian missile was accidentally fired at Poland while attempting to intercept two Russian missiles. The missile struck the town of Przewodów, killing two people.
"Firing missiles at a NATO member is probably not the best way to join the alliance," the embassy wrote above the offensive picture.
Joan Donovan, research director of the Shorenstein Center on Media, Politics and Public Policy and the co-author of the book "Meme Wars," accused Russia of using "open antisemitism" with the tweet to attempt to secure support for its ongoing war against Ukraine.
Russia has frequently accused Ukraine of Nazism before in an attempt to justify invading its neighbor, despite the fact that Zelenskyy is Jewish.
In May, Russian Foreign Minister Sergei Lavrov drew condemnation from Israel when he claimed that Hitler had Jewish ancestry in justifying Russia's use of the term Nazi to describe how Ukraine's government could be run by a Jew and the Nazis at the same time.
"The fact that Zelenskyy is Jewish does not deny the Nazi elements in Ukraine. I believe that Hitler also had Jewish blood," Lavrov said, in comments quoted by Kan 11 News.
The Russian Foreign Minister continued to attack the Ukrainian President, saying, "Zelenskyy can promote peace by stopping giving illegal orders to his Nazi soldiers."
Lavrov went on to say that "the Ukrainian attacks on Donbas are clearly aimed at imposing terror on the civilian population" and added that "Zelenskyy repeatedly changes his position, the Ukrainians sabotaged the negotiations."
Then-Israeli Prime Minister Naftali Bennett said in response to Lavrov's comments: "I view with utmost severity the Russian Foreign Minister's statement. His words are untrue and their intentions are wrong. The goal of such lies is to accuse the Jews themselves of the most awful crimes in history, which were perpetrated against them, and thereby absolve Israel's enemies of responsibility."
"As I have already said, no war in our time is like the Holocaust or is comparable to the Holocaust. The use of the Holocaust of the Jewish people as a political tool must cease immediately."