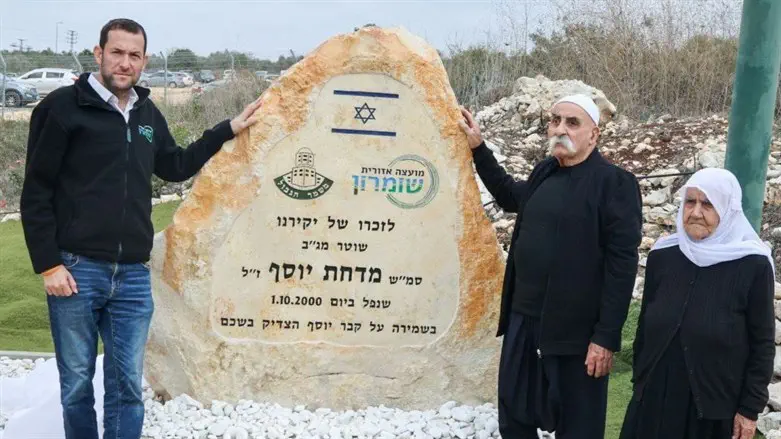 Dedication of memorial to Mahadat Yousouf
Elichai Menachem
Parha and Salman Yousouf, the parents of Border Police Officer Madahat Yousouf, a Druze Border Police officer who was fatally wounded while defending Joseph's Tomb at the start of the Second Intifada in 2000 arrived Tuesday near the spot where their son was murdered.
The bereaved family arrived at the Mitzpe Yosef that overlooks the tomb in Shechem (Nablus). "It is an unbearable feeling to repeat the event even after 22 years," said the bereaved mother.
Immediately after observing the spot where Madahat fell, his family dedicated a monument to his memory together with Samaria Regional Council chairman Yossi Dagan. The relationship between Dagan and the parents began about two years ago, when he arrived at the head of a delegation from Samaria and the 'Od Yosef Chai' yeshiva at the family's home in Beit Jann.
On October 1, 2000, a mob of Arabs, including Palestinian Authority policemen, rioted at Joseph's Tomb and attacked the Jewish holy site with stones, Molotov Cocktails, and shooting. Border Police officer Madahat Yousouf was shot by a sniper.
Madahat waited for four hours to be evacuated by IDF forces so he could be treated for his wounds, and perished before help arrived. The IDF commanders had decided not to send in IDF forces to extract the Israelis from the site, but instead waited for the Palestinian Authority to send its own forces to evacuate those trapped there. This decision was sharply criticized and blamed for Mahadat's death.
"Then we received the news with great tears, we didn't believe it would happen. I always believed he would come home," said his mother Parha. "Madahat spoke to me for fifteen minutes before he was injured and then we lost contact with him. It was very difficult."
Salman, Madahat's father, thanked Dagan, who initiated the construction of the monument in his son's memory: "I feel as if he is my son, I respect him. I wish for peace between you and your neighbors."
Mehdi, Mahadat's eldest brother, said: "I feel a lot of pride. My brother Madhat, we placed a memorial stone for you from Samaria and bowed our heads in your honor, and all this thanks to Mr. Yossi Dagan, for whom we in the family have great respect. When Yossi Dagan visited us at Beit Jann, he pointed out that Joseph's Tomb is supposed to remain guarded and protected, otherwise what were the soldiers there for? Why did Mahadat have to fall? Joseph's Tomb should be entered in the light of day and not like thieves in the night."
Mehdi looked at the scene where his brother fell, and said: "When I stand here I hear the cries of my brother, tormented by pain while the commanders stood here and idly watched the incident. When I stand here I think that maybe we could have rescued him, his cries reached here along with those of the soldiers who were abandoned with him and their cry was not heard."
Samaria Regional Council chairman Yossi Dagan said: "Along with [the murder of] Mahadat, the tomb of Joseph the Righteous was also desecrated. We are all bound by blood ... to each other, to the land of Samaria, and to Joseph's Tomb, which we will never, ever abandon. It is a great privilege for us to host you here in Samaria, and it is a great privilege for us to salute today the late Mahadat - by erecting this monument, which stands next to the names of the fallen heroes of Samaria."