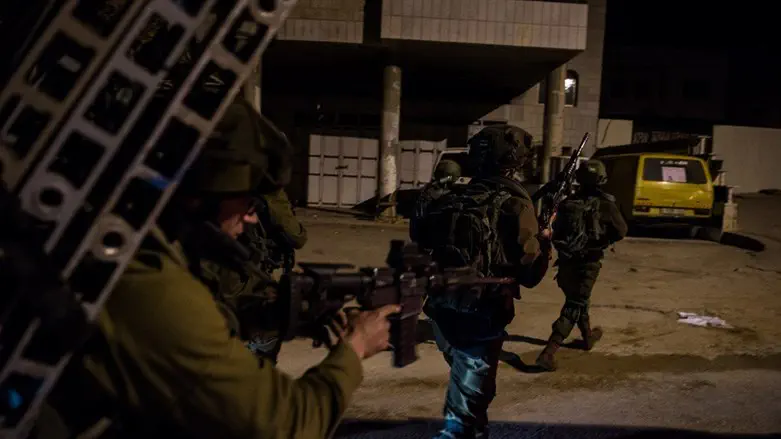 IDF soldiers operating in Shechem (Nablus)
IDF Spokesperson's Unit
IDF, Israel Security Agency (Shin Bet) and Yamam counterterrorist forces raided overnight Monday a hideout apartment in the Kasbah of Shechem (Nablus) that was used as a headquarters and explosives manufacturing site. The site was used by the main operatives of the "Lions' Den" terrorist group. The forces detonated the explosive manufacturing site.
During the activity, multiple armed suspects were hit and Palestinian Arab reports indicate that were multiple injuries.
During the operation, dozens of Palestinian Arabs burned tires and hurled rocks at the troops. The troops responded with live fire toward the armed suspects who were shooting at them.
The "Lions' Den" terrorist group is responsible for carrying out the shooting attack that killed IDF soldier Staff-Sargent Ido Baruch, as well as attempting to carry out a terrorist attack in Tel Aviv (an attack that was thwarted by the Israel Police) and the planting of an explosive device in the Kedumim gas station.
They also attempted to carry out a shooting attack in Har Bracha and hurled a grenade towards IDF soldiers who were adjacent to Havat Gilad.
The terrorist group is also in charge of multiple shooting attacks throughout the city of Shechem.
Over the last period of time the terrorist group continued to recruit, plan, and carry out attacks aimed against innocent Israeli civilians.
According to Palestinian Arab reports, four terrorists were killed and 19 wounded in the gun battle between the Israeli forces and the terrorists.
Early Sunday morning, Tamer Kilani, a senior member of the Lions' Den, was killed in a motorcycle explosion in Shechem.
According to the Palestinian Arabs, the explosion occurred after an explosive device was planted in Kilani's motorcycle and activated by a Palestinian Arab who cooperated with Israel. The reports also claimed that the operative was recorded on security cameras activating the device.
Other reports said the explosion was caused by a "mishap" after Kilani tried to mount an explosive device on his own motorcycle and failed.
The IDF and Shin Bet did not comment on the incident, but the Lion's Den blamed Israel and threatened, "We promise [IDF Chief of Staff] Kochavi a hard and painful response."