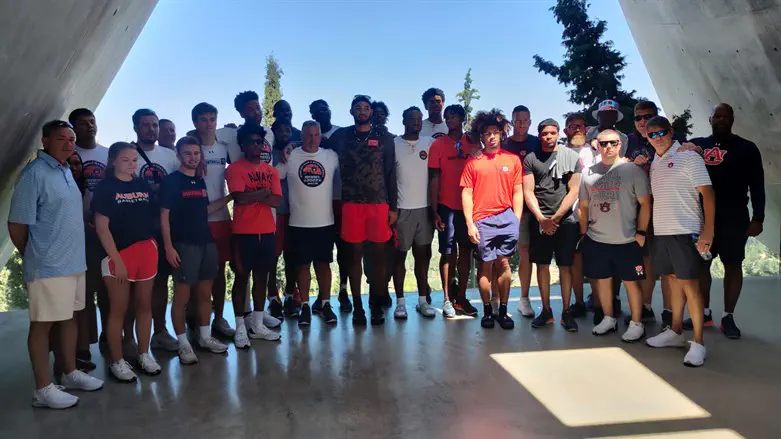 The Auburn Tigers at Yad Vashem
Simmy Allen/Yad Vashem
On Wednesday, the Auburn Tigers, a 1st Division NCAA college basketball team from Auburn University in Alabama, visited Yad Vashem, the World Holocaust Remembrance Center in Jerusalem, as part of their tour of Israel.
Their meaningful experience at Yad Vashem included a guided tour of the Holocaust History Museum.
Yad Vashem Chairman Dani Dayan greeted the team's coach Bruce Pearl and the Auburn Tigers teammates, and retold the group a story about his own tour of the Civil Rights Trail, which he took while serving as Consul General for the State of Israel in New York.
"Like my trip in the footsteps of Rosa Parks and Martin Luther King Jr., your visit today to Yad Vashem is a journey through history," Dayan said. "The Holocaust is the representation of humanity's lowest point, at a time when all morality and justice was lost to an ideology that deemed Jews subhuman. Today we must fight hatred and antisemitism in all its forms, in order to ensure that history is never allowed to repeat itself."
At the end of the visit, the group visited the Children's Memorial dedicated to the 1.5 million Jewish children murdered by the Nazis and their collaborators.
Coach Bruce Pearl also signed the Yad Vashem Guest Book on behalf of the team.
Bruce Pearl's guestbook entry on behalf of the team
Simmy Allen/Yad Vashem
The Auburn Tigers at Yad Vashem
Jonathan Hauerstock/ Shir Avital – MFA
Listening to history at Yad Vashem
Jonathan Hauerstock/ Shir Avital – MFA
Viewing an exhibit at Yad Vashem
Jonathan Hauerstock/ Shir Avital – MFA
Auburn Tigers learn about the Holocaust at Yad Vashem
Jonathan Hauerstock/ Shir Avital – MFA