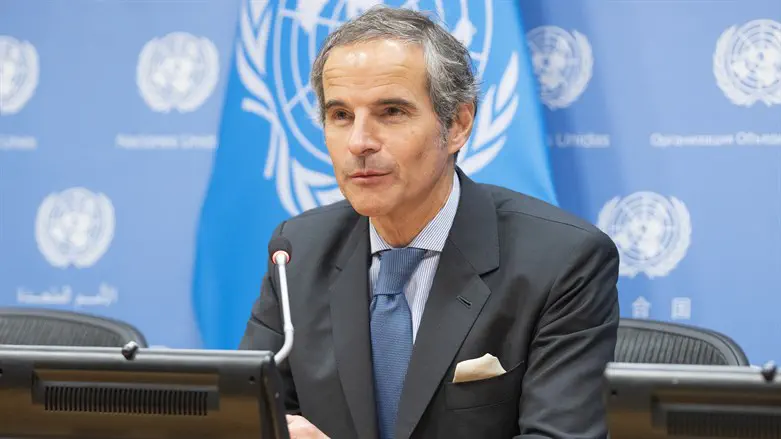 Rafael Grossi
Lev Radin/Sipa USA via Reuters Connect
Rafael Grossi, head of the International Atomic Energy Agency (IAEA), warned on Tuesday that Iran's nuclear program is growing and "moving ahead very, very fast", Reuters reported.
He also stressed that "good words" from Iran are not enough to satisfy international inspectors and he hopes Tehran is ready to be transparent about its nuclear program.
Grossi said that Iran must grant IAEA inspectors access "commensurate to the size" of its uranium enrichment program if the agency is to credibly assure that it is peaceful.
"When it comes to nuclear, good words will not do it. What you need to do is to be transparent and compliant and work with us. We are ready and I hope they will be as well," Grossi told reporters at the United Nations, according to Reuters.
"They have a very ambitious nuclear program that needs to be verified in the appropriate way. The program is moving ahead very, very fast and not only ahead, but sideways as well, because it's growing in ambition and in capacity," he added.
The comments are in line with ones Grossi made in late July, when he warned that Iran's nuclear program is "galloping ahead" and his agency has very limited visibility on what is happening.
In June, Iran began removing essentially all the agency's monitoring equipment, which was installed under the 2015 nuclear deal with world powers. Grossi said at the time this could deal a "fatal blow" to chances of reviving the deal following 2018's pullout by the United States.
That month, the IAEA issued a report in which it said Iran is escalating its uranium enrichment further by preparing to use advanced IR-6 centrifuges at its underground Fordow site that can more easily switch between enrichment levels.
The move is the latest of several steps Iran had long threatened to take but held off carrying out until 30 of the 35 countries on the IAEA Board of Governors backed a resolution criticizing it for failing to explain uranium traces found at undeclared sites.
An earlier IAEA report said that the agency still had questions which were "not clarified" regarding previous undeclared nuclear material at three sites in Iran named as Marivan, Varamin and Turquzabad.
Iran and the UN agency agreed in March on an approach to resolve the issue of the nuclear material found at the three sites.
Last year, the IAEA found uranium particles at two Iranian sites it inspected after months of stonewalling.
Although the sites where the material was found are believed to have been inactive for nearly two decades, opponents of the 2015 nuclear deal Iran signed with world powers say evidence of undeclared nuclear activities shows that Iran has not been acting in good faith.
Iran has claimed that the IAEA was influenced by Israel when compiling its reports on its nuclear program.