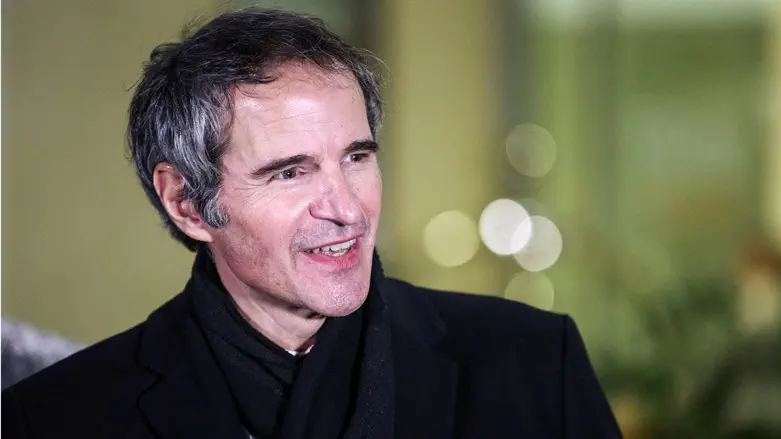 Rafael Grossi
Reuters
International Atomic Energy Agency (IAEA) chief Rafael Grossi warned on Friday that Iran's nuclear program is "galloping ahead" and his agency has very limited visibility on what is happening.
"The bottom line is that for almost five weeks I have had very limited visibility, with a nuclear program that is galloping ahead and, therefore, if there is an agreement, it is going to be very difficult for me to reconstruct the puzzle of this whole period of forced blindness," Grossi told the Spanish newspaper El Pais, as quoted by i24NEWS.
"It is not impossible, but it is going to require a very complex task and perhaps some specific agreements," said Grossi.
In June, Iran began removing essentially all the agency's monitoring equipment, which was installed under the 2015 nuclear deal with world powers. Grossi said at the time this could deal a "fatal blow" to chances of reviving the deal following 2018's pullout by the United States.
On Friday, he said he was concerned and worried about the weeks with no visibility.
"The agency needed to reconstruct a database, without which any agreement will rest on a very fragile basis, because if we don't know what's there, how can we determine how much material to export, how many centrifuges to leave unused?" Grossi told El Pais.
Also last month, the IAEA issued a report in which it said Iran is escalating its uranium enrichment further by preparing to use advanced IR-6 centrifuges at its underground Fordow site that can more easily switch between enrichment levels.
The move is the latest of several steps Iran had long threatened to take but held off carrying out until 30 of the 35 countries on the IAEA Board of Governors backed a resolution this month criticizing it for failing to explain uranium traces found at undeclared sites.
Iran, which had already been scaling down its compliance with the 2015 nuclear deal in response to former US President Donald Trump's withdrawal from it, warned following the IAEA resolution that it would respond in a "firm and proportionate" manner and that "the initiators are responsible for the consequences."
An earlier IAEA report said that the agency still had questions which were "not clarified" regarding previous undeclared nuclear material at three sites in Iran named as Marivan, Varamin and Turquzabad.
Iran and the UN agency agreed in March on an approach to resolve the issue of the nuclear material found at the three sites.
Last year, the IAEA found uranium particles at two Iranian sites it inspected after months of stonewalling.
Although the sites where the material was found are believed to have been inactive for nearly two decades, opponents of the 2015 nuclear deal Iran signed with world powers say evidence of undeclared nuclear activities shows that Iran has not been acting in good faith.
Iran has claimed that the IAEA was influenced by Israel when compiling its reports on its nuclear program.
(Israel National News' North American desk is keeping you updated until the start of Shabbat in New York. The time posted automatically on all Israel National News articles, however, is Israeli time.)