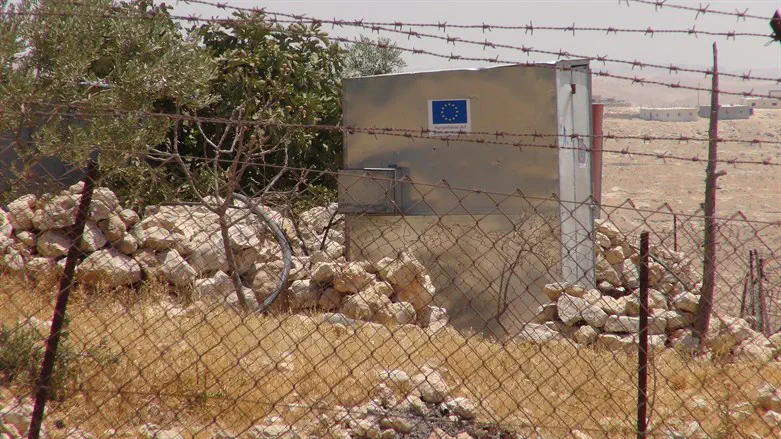 Illegal construction, courtesy of the European Union
Eliran Aharon
In a renewed petition submitted to Israel's Supreme Court of Justice, the Regavim Movement calls for changes in Civil Administration procedures that automatically freeze enforcement against thousands of illegal structures in Area C.
Regavim stressed: "This procedural distortion encourages illegal construction, entrenches, and enables the Palestinian takeover of Area C."
In 2021, a Regavim petition to the Supreme Court of Justice challenged Civil Administration and Ministry of Defense operational guidelines, in force for years, that actively violate the Planning and Construction Law. The implementation of these guidelines has created a protective shield for illegal structures by granting indefinite suspension of enforcement procedures against thousands of illegal Arab-built structures, entrenching their status and permanence and encouraging a surge of new illegal Arab construction.
The operational guidelines grant automatic, open-ended suspension of enforcement procedures against illegal construction in Judea and Samaria from the moment statutory appeals are submitted for any illegally-built structure – including requests for TABA (municipal masterplan), requests for a waiver of building permit requirements, appeals against demolition orders, requests to freeze enforcement procedures, appeals to the Supreme Court of Justice – even when it is clear from the outset that these motions are totally without basis and will not be upheld due to insurmountable flaws in design, engineering, location, land ownership, or other objective facts. By simply submitting unfounded or even absurd requests or applications, illegal structures enjoy an umbrella of protection, as enforcement is automatically frozen – indefinitely.
Regavim's 2021 petition was dismissed when the State claimed that it had revised the problematic procedural guidelines – but Regavim's petition argues that the changes instituted by the Civil Administration involve a minor procedural sub-paragraph that has no substantive impact on the operational guidelines or their problematic results. Regavim has now submitted a second petition, arguing that although the correction limits the blanket enforcement freeze to a certain degree, the procedural guidelines continue to uphold illegal practices and grant offenders protection from enforcement.
"The Civil Administration, which is responsible for enforcing the law in Judea and Samaria, has inexplicably expanded a loophole in the Jordanian law that is in force in this area, enabling illegal construction on a massive scale," says Attorney Boaz Arzi of Regavim's Legal Division.
"There are currently some 80,000 illegal Palestinian structures in Area C of Judea and Samaria, the area ostensibly under Israeli civil and security jurisdiction. Every day, an average of eight new structures is added to this incomprehensible number, alongside the massive territorial takeover through agricultural and roadwork projects – all of which are planned and carried out by the Palestinian Authority with the support of foreign concerns."
Arzi adds: "This absurdity must be stopped – immediately. There's a battle raging on the ground for control of Area C, and the Civil Administration's illegal procedural protocols are aiding and abetting the Palestinian Authority's takeover."